01-09-2020 | Original Article | Issue 18/2020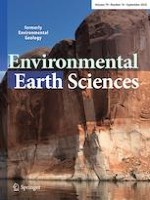 An assessment of the potential health risks associated with the use of spring waters in crystalline basement rocks in Oke-Igbo in south-western Nigeria
Journal:
Authors:

Oluwaseun Franklin Olabode, Temitope Funminiyi Ajala, Timothy Iyobosa Asowata
Important notes
Publisher's Note
Springer Nature remains neutral with regard to jurisdictional claims in published maps and institutional affiliations.
Abstract
Challenges of water scarcity (quantity and quality) in a basement terrain have prompted the study on the rate of discharge and water quality of springs in the Oke-Igbo area in south-western Nigeria. Discharges from all the spring sites were found to range between 1.50 and 30.42 l/s and only suitable for small water supplies. All the dissolved ions were found to be within the WHO standard tolerable limit except for Pb and Fe which were present in spring discharges at levels of 0.18 to 0.62 mg/l and 0.07 to 2.4 mg/l, respectively. An assessment of water quality using a Piper plot, Gibbs plots, ionic ratios and Chloro-Alkaline Indices classified the spring water as Ca–HCO3 water-type facies, suggesting that the principal controls on the chemical composition of the water are water–rock reactions in the basement aquifers. Health Index (HI) and Probability Cancer Risk (PCR) result for adults and children presented that all the springs portend traceable chronic risk to consumers due to elevated lead concentrations. Secondary treatment is required and highly suggested to reduce the concentrations of lead and iron before consumption of the spring waters.