01-07-2019 | APPLIED PROBLEMS | Issue 3/2019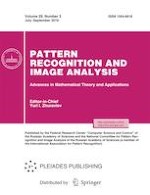 An Automatic Detection of Blood Vessel in Retinal Images Using Convolution Neural Network for Diabetic Retinopathy Detection
Authors:

C. Raja, L. Balaji
Important notes
C. Raja
received PhD degree from Anna University, Chennai in the faculty of Information and Communication Engineering in 2016, specialized in Medical image processing. He received his M.Tech. Degree in Biomedical Signal Processing and Instrumentation in 2005 from SASTRA University and B.E. Degree in Electronics and Communication Engineering in 2003 from Bharathidasan University. From 2005 to till date he has been working as Assistant Professor in various Engineering colleges in India. His present affiliation is with KL University, Vijayawada designated as Professor in ECE. To his credit he has published 5 research papers in SCI and SCIE indexed international journals and international-level conferences. He has also published in other reputed Journals and conferences. His research interests are digital image processing, wavelets, optimization (swarm intelligence) and deep learning.
L. Balaji
received his BE degree in Electronics and Communication Engineering from University of Madras, India, received his ME degree in Communication Systems and PhD degree from Anna University, India. He also possesses a Diploma in Computer Technology from the Directorate of Technical Education, India. Currently, he is working as an Associate Professor at Easwari Engineering College, India. He has authored 4 books and published more than 25 papers in peer-reviewed International Journals and Conferences. His research interests include scalable video coding, multimedia compression, wireless networks and communication.
Abstract
Diabetes is a typical chronic disease that may remind to numerous complications. Since the diabetic patients, the diabetic retinopathy (DR) is standout amongst the most serious of these inconveniences and also most steady reasons of vision loss. Automatic detection of diabetic retinopathy at early stage is helping the ophthalmologist to treat the affected patient and avoid vision loss. Therefore, in this paper, we develop an efficient automatic diabetic detection in retinal images using convolution neural network. The suggested system mainly comprises of five modules such as (i) preprocessing, (ii) blood vessel segmentation, (iii) exudates segmentation, (iv) texture feature extraction, and (v) diabetic detection. At first, the preprocessing step is carried out using adaptive histogram equalization (AHE) for enhancing the input retinal image. Consequently, blood vessel segmentation and exudates segmentation are done using convolution neural network (CNN) and fuzzy c-means clustering (FCM) respectively. Then, texture features are extracted from blood vessel and exudates. After the feature extraction, the diabetic classification is done with the help of support vector machine. The experimental results demonstrate that the proposed approach accomplishes better diabetic detection result (accuracy, sensitivity, and specificity) compared to other approaches.