05-11-2020 | Issue 6/2021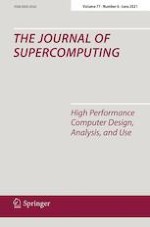 An efficient parallel strategy for high-cost prefix operation
Journal:
Authors:

Hazem M. Bahig, Khaled A. Fathy
Important notes
Publisher's Note
Springer Nature remains neutral with regard to jurisdictional claims in published maps and institutional affiliations.
Abstract
The prefix computation strategy is a fundamental technique used to solve many problems in computer science such as sorting, clustering, and computer vision. A large number of parallel algorithms have been introduced that are based on a variety of high-performance systems. However, these algorithms do not consider the cost of the prefix computation operation. In this paper, we design a novel strategy for prefix computation to reduce the running time for high-cost operations such as multiplication. The proposed algorithm is based on (1) reducing the size of the partition and (2) keeping a fixed-size partition during all the steps of the computation. Experiments on a multicore system for different array sizes and number sizes demonstrate that the proposed parallel algorithm reduces the running time of the best-known optimal parallel algorithm in the average range of 62.7–79.6%. Moreover, the proposed algorithm has high speedup and is more scalable than those in previous works.