11-06-2019 | Research Article | Issue 1/2020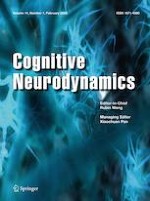 An ERP-based BCI with peripheral stimuli: validation with ALS patients
Journal:
Authors:

Yangyang Miao, Erwei Yin, Brendan Z. Allison, Yu Zhang, Yan Chen, Yi Dong, Xingyu Wang, Dewen Hu, Andrzej Chchocki, Jing Jin
Important notes
Yangyang Miao and Erwei Yin are contributed equally to this work.
Publisher's Note
Springer Nature remains neutral with regard to jurisdictional claims in published maps and institutional affiliations.
Abstract
Many studies reported that ERP-based BCIs can provide communication for some people with amyotrophic lateral sclerosis (ALS). ERP-based BCIs often present characters within a matrix that occupies the center of the visual field. However, several studies have identified some concerns with the matrix-based approach. This approach may lead to fatigue and errors resulting from flashing adjacent stimuli, and is impractical for users who might want to use the BCI in tandem with other software or feedback in the center of the monitor. In this paper, we introduce and validate an alternate ERP-based BCI display approach. By presenting stimuli near the periphery of the display, we reduce the adjacency problem and leave the center of the display available for feedback or other applications. Two ERP-based display approaches were tested on 18 ALS patients to: (1) compare performance between a conventional matrix speller paradigm (Matrix-P, mean visual angle 6°) and a new speller paradigm with peripherally distributed stimuli (Peripheral-P, mean visual angle 8.8°); and (2) assess performance while spelling 42 characters online continuously, without a break. In the Peripheral-P condition, 12 subjects attained higher than 80% feedback accuracy during online performance, and 7 of these subjects obtained higher than 90% accuracy. The experimental results showed that the Peripheral-P condition yielded performance comparable to the conventional Matrix-P condition (
p 
> 0.05) in accuracy and information transfer rate. This paper introduces a new display approach that leaves the center of the monitor open for feedback and/or other display elements, such as movies, games, art, or displays from other AAC software or conventional software tools.