03-04-2020 | Issue 8/2020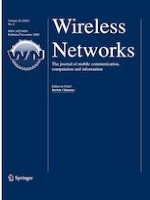 An event-driven energy-efficient routing protocol for water quality sensor networks
Journal:
Authors:

Xiaoyi Wang, Gongxue Cheng, Qian Sun, Jiping Xu, Huiyan Zhang, Jiabin Yu, Li Wang
Important notes
Publisher's Note
Springer Nature remains neutral with regard to jurisdictional claims in published maps and institutional affiliations.
Abstract
Due to the limited resources of water quality sensor networks, how to design a routing protocol which can prolong the network life cycle is one of a research hotspots. In this paper, according to the event level and the node energy of the sensor networks, the nodes' types are defined, which can help to determine the cluster node. Then, an event driven routing protocol (EDRP) is proposed, which considers the event information and the remaining energy of the whole network. Simulation results show that, compared with distributed energy-efficient clustering algorithm, EDRP can reduce the overall energy consumption of the network by 138–172%, based on different kinds of events. Besides, EDRP can effectively prolong the life cycle and greatly increase the amount of data transmission of the network.