2015 | OriginalPaper | Chapter
74. An Experimental Study on the Drying of Peanuts Using Indirect Solar Dryer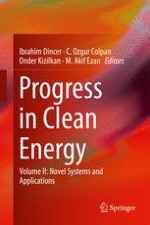 Read first chapter
Authors: D. Mennouche, B. Bouchekima, S. Zighmi, A. Boubekri, S. Boughali, A. Matallah
Publisher: Springer International Publishing
Abstract
An indirect type natural convection solar dryer is designed, constructed, and investigated experimentally to study the drying of peanut (
Arachis hypogaea
L.) under the weather conditions of Ouargla, Algeria.
During the experiments, the samples of peanut were dried to the final moisture content of 8.31 from 34.15 % (w.b) in three days of drying. Experimental drying curves showed only a falling drying rate period. Measured air-drying temperatures, relative humidity, and air velocity in the dryer ranged between 20 and 46.06 °C, 8.03 and 35.82 %, and 0 and 1.68 m/s, respectively.
The data of sample weight, relative humidity, and temperatures were recorded continuously from morning to evening for each test.
The peanut oil extraction (solid-liquid extraction by using Soxhlet extractor) shows that the yield of oil in the dried product increased by 16.26 % compared to the fresh product.
Peanut dried in the indirect solar dryer (type natural convection) was completely protected from insects, rain, and dusts, and the dried samples were of high yield in terms of oil. This system can be used for drying various agricultural products. Also, it is simple in construction and can be constructed at a low cost with locally obtainable materials.