01-07-2020 | Thematic Issue | Issue 14/2020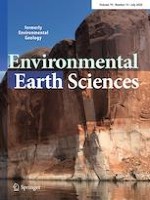 An interpretation of water recharge in karst trough zone as determined by high-resolution tracer experiments in western Hubei, China
Journal:
Authors:

Wei Liu, Zejun Wang, Qianlong Chen, Ziqi Yan, Tiantian Zhang, Zhaofeng Han, Wei Chen, Hong Zhou
Important notes
This article is a part of a Topical Collection in Environmental Earth Sciences on Sustainable Management of Karst Natural Resources, guest edited by Drs. Sasa Malinovic and Zoran Stevanovic.
Publisher's Note
Springer Nature remains neutral with regard to jurisdictional claims in published maps and institutional affiliations.
Abstract
To investigate the hydrogeological characteristics of the karst trough zone in China, two groundwater systems (Yuquandong [YQD] and Migongquan [MGQ]) in Sixi Valley, western Hubei, were discussed. Seven groups of tracer experiments were conducted, with consideration of regional topography, geology and hydrogeology. By means of high-resolution continuous monitors, tracer breakthrough curves (BTC) of two systems were obtained and it was found that karst conduits of YQD system were more developed. From their hydrological and hydrochemical performance, two different systems were verified with relatively independent flow paths. Additionally, boundaries of the two systems were confirmed, sub-regions of recharge were delineated, and five conceptual models of groundwater recharge were determined, which are typical of the karst trough zone of China.