01-09-2014 | Issue 18/2014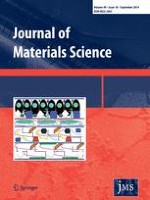 An investigation into the relationship between processing, structure and properties for high-modulus PBO fibres: part 3: analysis of fibre microstructure using transmission electron microscopy
Journal:
Authors:

Tooru Kitagawa, Kazuyuki Yabuki, Andrew C. Wright, Robert. J. Young
Abstract
A detailed morphological study of the microstructure of poly(
p
-phenylene benzobisoxazole) (PBO) fibres (HM and HM+) and a polypyridobisimidazole (PIPD) (HT) fibre has been undertaken using transmission electron microscopy. Both PBO and PIPD fibres are composed of rigid-rod polymers having
p
-phenylene rings in the molecular backbone and show high modulus (280–360 GPa) and high strength (4–6 GPa). It is found that the PBO HM+ fibre has the highest degree of molecular orientation of the three fibres and the longest crystal length along the fibre axis, while the PIPD fibre shows a lower degree of orientation and a shorter crystal length than the PBO fibres. To understand the effect of crystalline size and fine structure of the fibres upon mechanical properties, dark-field and high-resolution lattice images were obtained and analysed in detail.