15-06-2020 | Foundations | Issue 15/2020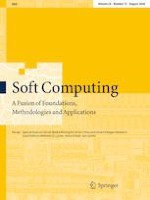 An n-state switching PSO algorithm for scalable optimization
Journal:
Authors:

Izaz Ur Rahman, Muhammad Zakarya, Mushtaq Raza, Rahim Khan
Important notes
Communicated by A. Di Nola.
Publisher's Note
Springer Nature remains neutral with regard to jurisdictional claims in published maps and institutional affiliations.
Abstract
Particle swarm optimization (PSO) is an optimization method that is most widely used to solve a number of problems in various fields such as engineering, economics and computer systems. However, due to its scalability and unsatisfying performance particularly for large-scale optimization problems; numerous PSO variants have been suggested so far, in the literature. This paper also proposes a new variant of the canonical PSO algorithm ('
N
-state switching PSO—NS-SPSO') that uses the evolutionary factor information to update particles velocities and, therefore, further enhance its performance. The evolutionary factor is derived by using the population distribution and the mean distance of each particle from the global best. The population distribution and the mean distance are determined through Euclidean distance. Moreover, algorithmic parameters such as inertia weight, and acceleration coefficients are assigned appropriate values at
N
stages (derived from exploration, exploitation, convergence and jumping out states) that improves the search efficiency and convergence speed. The proposed algorithm is applied to 12 widely used mathematical benchmark functions that demonstrate its best performance in terms of minimum evaluation error, fast convergence and low computational time. Besides these, seven high-dimensional functions and few other algorithms for large-scale optimization were considered to test the scalability of NS-SPSO algorithm. Our comparative results show that NS-SPSO performs well on low-dimensional problems and is promising for solving large-scale optimization problems. Furthermore, the proposed NS-PSO algorithm almost outperforms its closest rivals for various benchmarks.