05-11-2019 | Issue 3/2020 Open Access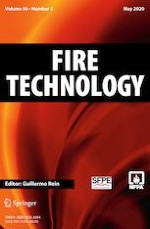 An Online Survey of Pedestrian Evacuation Model Usage and Users
Journal:
Authors:

Ruggiero Lovreglio, Enrico Ronchi, Michael J. Kinsey
Important notes
Publisher's Note
Springer Nature remains neutral with regard to jurisdictional claims in published maps and institutional affiliations.
2

Methods

An online survey was developed which included a set of closed-ended questions which provided a number of methodological benefits for collecting data. Using an online survey is an optimal approach to reach a large international audience. Moreover, previous studies have shown that the use of online surveys can increases the chances of increased sample size [

8

,

10

,

11

]. However, the use of online surveys introduces some limitations regarding assessing the response rate: advertising the survey on social media and forums does not allow researchers to estimate how many people read the advertisement and thus the percentage of people deciding to take part in the survey. This may be associated with a response bias linked to the fact that people interested in the survey topic might be more willing to respond to it. Another limitation is the inability to ensure consistency with the environment in which the respondents completed the survey which may influence the answers given. It should also be noted that the survey was disseminated in English language, thus restricting the group of respondents to English-speaking people. The survey was developed using a survey tool developed and hosted by Google. As such, the survey was only accessible to respondents and global regions where Google services are accessible (which has changed since the original survey when Google was more widely available in different countries).

The survey questions were phrased in order to be simple to understand, reduce any ambiguity, and thus make them easy and quick to answer. In doing so the expectation was to obtain a higher sample size and reduce the number of incomplete responses. Moreover, such a technique simplifies the data analysis as there is no need to apply coding protocols (which may also be associated with several issues, e.g. inconsistencies in coding performed by different researchers), which are instead necessary for open-ended questionnaires and interviews [

12

,

13

]. However, the limitations regarding the methodological choice of closed-ended questions relate to limiting/affecting the variety of responses and viewpoints [

14

]. To address this issue, respondents were permitted to provide customised responses (e.g. "other") which were not included in the available options in addition to being able to write an open-ended comment at the end of the survey to allow the respondents to add other information regarding the survey topic.
3

Survey

The online survey consisted of 22 questions divided into two sections. Most of the selected questions are based on the early study from 2011 [

8

] to allow comparisons between the new and existing results. A number of new questions referring to Building Information Modelling (BIM) were added considering its increasing prominence in the building design process and specifically within the fire safety engineering domain [

15

,

16

]. This is exemplified by a number of pedestrian evacuation models allowing BIM formats (e.g., such as Industry Foundation Classes (IFC) formats) to import building geometries into a model. In addition, BIM tools such as Autodesk Revit and Vectorworks are developing capabilities to integrate pedestrian evacuation models within the core design software. Additional questions were also added regarding practical factors that could affect the choice of a pedestrian evacuation model and if/why respondents changed to using an alternate pedestrian evacuation model.

The first part of the survey requested respondents to provide information regarding demographics, educational, and work background. The second part of the survey refers to asking respondents about the following:

(a)

Model awareness and selection: which pedestrian evacuation models respondents are familiar with and mainly use.

(b)

General and practical factors affecting the model selection.

(c)

Model use: which pedestrian evacuation models respondents and in which contexts/buildings and how often respondents used these models.

(d)

Training: how respondents learnt the use of computer pedestrian evacuation models.

(e)

Model change: if/why respondents have changed computer pedestrian evacuation models.

(f)

The need for BIM support.

The survey was made available online and disseminated through social networks (e.g. LinkedIn and Twitter) and email lists for a period of 5 months (Jan 2018–May 2018). The goal was to achieve a relevant number of respondents belonging to different areas of expertise that use different models. Given the fact that the main network of the authors is primarily in the fire safety engineering domain, the majority of the people reached out by the survey were indeed belonging to that community. The aim was to collect data from a comparable sample size to the 2011 survey by Ronchi and Kinsey [

8

] (i.e. 198 respondents). The dissemination method was similar to the one performed in 2011, thus it is likely that some of the respondents who responded to the survey in 2011 replied also to the current survey. However, it is not possible to identify these respondents as they were not asked if they had completed the previous survey.
4

Respondents' Characteristics
5

Results

The main results of the survey are presented below and relate to (1) model awareness, (2) model selection, (3) model usage, (4) Training, change of model used, and BIM integration.
6

Data Comparison

Given the similarities between the questionnaire used in this study and the one adopted by Ronchi and Kinsey [

8

], it is possible to analyse if there were any changes in the results for the questions in common. These relate to awareness and usage of models as well as the general factors affecting pedestrian evacuation model selection.

Figure

12

illustrates the proportion of respondence awareness of the most popular pedestrian evacuation models in 2018 survey compared to the same models in the 2011 survey. A Chi square test was used to determine if the differences in results were statistically significant. The results indicate significantly more people were aware of the Pathfinder model now compared to 2011, however, there is no significant difference regarding differences in awareness for the STEPS and FDS + Evac models.

Table

1

compares the score order of the general factors affecting the selection of pedestrian evacuation models between each survey. The table illustrates that there is no difference for the first eight factors, i.e., the order is identical for both 2011 and 2018, indicating that factors affecting the choice of pedestrian evacuation models remained overall consistent. This supports the reproducibility of the results and provides confidence the ordinal list is unchanged over the period of time since the previous study.

Table 1

Orders of the general factors affecting computer pedestrian evacuation model selection in 2011 and 2018
General factors

Order

2011

2018

Validation/verification

1

1

Data output

2

2

Documentation (explaining how the model works)

3

3

Continual development of the model incorporating new features

4

4

Usability of the software (is it user friendly?)

5

5

Flexibility to control agents

6

6

Research into human behaviour done by the developer

7

7

CAD files importing

8

8

Emergent behaviour

10

9

Feedback/opinion about the model by other users

11

10

Inclusion of data specific to certain environments

13

11

Visual realism of behaviour

9

12

Fire/hazard data importing

14

13

Cost

12

14

Visual realism of graphics

13

15
7

Discussion

Several potential factors may contribute to the increased awareness and usage of given pedestrian evacuation models. First, the age of the pedestrian evacuation models can affect the results as some are much older than others which could mean they have had longer to build a user base. The second factor is the regional use of models in relation to the sample of respondents and type of sample respondents (mostly in the fire safety engineering industry). Third, regional marketing/sales can impact pedestrian evacuation model awareness as generally the most used models have agreements with resellers which can have varying scales of operation and impact in different regions. Fourth, the level of sophistication and continual development of the models can have an impact as the most used models may offer more features and may be more continuously updated compared to others. In addition, some of the models were developed for academic/research purposes and have limited marketing for wide spread adoption within the fire engineering industry. Another influencing factor relates to the free general academic/research use and subsequent wide spread tuition/adoption in fire engineering courses at universities which has grown significantly in recent times since the previous survey. Conversely some of the models are not freely available for general academic use or taught at universities which may influence awareness and usage. Pedestrian evacuation model developers whose models ranked low in the results may look to increase awareness/usage of their models through adopting/improving some of the items listed above.

Regarding the types of usage pedestrian evacuation models are used for, results indicate that more than 60% of the sample use pedestrian evacuation models to assess whether buildings are compliant with codes/standards and to aid in the design of new structures. Commonly pedestrian evacuation models are used where a building design cannot meet prescriptive fire requirements and so performance-based design is adopted in order to demonstrate people can evacuate before untenable conditions occur. Alternatively, pedestrian evacuation models may be used to compare evacuation results of a building design which is complaint with prescriptive fire requirements with the actual building design (which is not compliant with prescriptive fire requirements) to assess if there is any significant difference in the results. Considering building design teams are developing ever more novel structures and pushing the technological boundaries of building design which may mean compliance with prescriptive fire requirements is challenging, it is unsurprising that the majority of pedestrian evacuation models are used for new buildings. What is perhaps surprising is that almost half of responses stated that pedestrian evacuation models were used for assessment of existing buildings. This may include where upgrade works or renovations/re-designs cause a non-compliance with prescriptive fire requirements. In both cases pedestrian evacuation models may initially be run and required to be re-run multiple times as the design changes. As such, the ease with which the pedestrian evacuation model allows users to make updates to a model is important to users which is supported by the data as the third most important factor when selecting to use a pedestrian evacuation model. This suggests pedestrian evacuation model developers should consider improving clarity with user interfaces and clear/simple work flows of how to change models (e.g. ideally with fewer clicks) in order to improve usability of the software.
8

Conclusion

This study investigated pedestrian evacuation model awareness and usage via an online survey, based on an expanded version of the survey developed in 2011 by Ronchi and Kinsey [

8

]. The original survey was modified to investigate new trends and features within pedestrian evacuation modelling, such as the use of BIM, potential use of multiple pedestrian evacuation models, and training. The results indicate that despite the large number of models available (over 70 models) a limited number of models seems to be the most used as only 12 models were used by at least 1% of the sample. Results suggest that verification and validation is the most important factor affecting the selection of a pedestrian evacuation models which indicate the need for continuous investments in research and data collection which can be used for verification/validation and model development. The survey shows that the main use of pedestrian evacuation models relate to building compliance with codes/standards and aid in the design of new structures. The most common building types for utilising pedestrian evacuation models were identified as train/metro stations, shopping malls, and arenas/stadia. The data indicates that the majority of mode users are self-taught regarding how to use pedestrian evacuation models (via tutorials and documentation) and would prefer greater BIM integration to facilitate their analysis in addition to saving time. The comparison of the current study with the 2011 study by Ronchi and Kinsey [

8

] indicates that the three most known models remain the same and that general factors affecting model choice shows that the first eight factors have an identical order of importance in 2011 and in 2018.
Acknowledgements
Open access funding provided by Lund University.
Open Access
This article is distributed under the terms of the Creative Commons Attribution 4.0 International License (
http://​creativecommons.​org/​licenses/​by/​4.​0/​
), which permits unrestricted use, distribution, and reproduction in any medium, provided you give appropriate credit to the original author(s) and the source, provide a link to the Creative Commons license, and indicate if changes were made.
Publisher's Note
Springer Nature remains neutral with regard to jurisdictional claims in published maps and institutional affiliations.