19-04-2020 | Issue 6/2020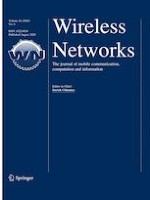 An optimal energy resource allocation framework for cellular networks with power grid interruptions
Journal:
Authors:

Maria O. Hanna, Mostafa F. Shaaban, Mahmoud H. Ismail, Mohamed S. Hassan
Important notes
Publisher's Note
Springer Nature remains neutral with regard to jurisdictional claims in published maps and institutional affiliations.
Abstract
In this paper, we investigate the problem of optimal allocation of renewable energy resources to power base stations (BSs) in cellular networks while accounting for possible power failures in the utility grid. The allocation problem under investigation is formulated as a mixed integer non-linear programming, which is then decomposed, due to its complexity, and solved as two interdependent problems with the help of deterministic and metaheuristic techniques. We propose an allocation algorithm that jointly aims at optimizing the allocation of individualized green energy resources to simultaneously power the BSs with the grid as well as minimizing the overall system costs. Cost minimization is achieved by selecting the optimal types and sizes of the used photovoltaic (PV) panels and batteries in addition to optimally scheduling the charging and discharging of the selected batteries. This is done while limiting PV curtailment and any expected loss of cellular services at the times of power outage. Finally, the effectiveness of the proposed algorithm is demonstrated through the simulation of a sample case of a typical BS where Markov Chain Monte Carlo simulations are carried out to account for the uncertainty of the output of the PV panels and the grid failures.