30-09-2017 | Issue 2/2019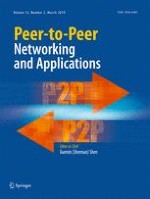 An optimized protocol for QoS and energy efficiency on wireless body area networks
Authors:

Tong Bai, Jinzhao Lin, Guoquan Li, Huiqian Wang, Peng Ran, Zhangyong Li, Yu Pang, Wei Wu, Gwanggil Jeon
Important notes
This article is part of the Topical Collection:
Special Issue on Software Defined Networking: Trends, Challenges and Prospective Smart Solutions
Guest Editors: Ahmed E. Kamal, Liangxiu Han, Sohail Jabbar, and Liu Lu
Abstract
Body area networks (BAN) are at the forefront of technologies for long-term monitoring of personal healthcare, which is intended be an effective strategy to address the aging population worldwide. The transceiver is the most energy-consuming part of a sensor node, and radio transmission in the vicinity of the human body is highly lossy and inefficient. Therefore, the energy of the sensor node constrains the life cycle and quality of service (QoS) of the network; consequently, low-cost protocol shave attracted wide interest. This paper proposes a frame structure model of a self-adaptive guard band (SAGB) protocol, which introduces a guard band (GB) in each time slot according to the allowed maximum time drift of the crystal, adaptively adjusts the value of the GB based on the actual time drift, and then ensures that the node simultaneously maintains the sleeping state and synchronization with the coordinator during beacon transmission, thus reducing the energy consumption.