Published in: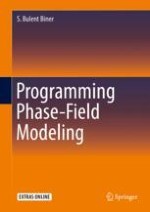 2017 | OriginalPaper | Chapter
1. An Overview of the Phase-Field Method and Its Formalisms
Abstract
A microstructure can be described as the spatial arrangement of the phases and possible defects that have different compositional and/or structural character (for example, the regions composed of different crystal structures and having different chemical compositions, grains of different orientations, domains of different structural variants, and domains of different electric or magnetic polarizations). The size, shape, volume fraction, and spatial arrangement of these microstructural features determine the overall properties of any type of multiphase and/or multicomponent materials.