05-01-2021 | Issue 3/2021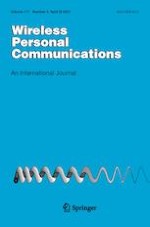 Analysing Outage Probability and Diversity for Matrix Based Shadowed Attenuation in Multipath Fading Environment
Journal:
Authors:

Arvind Dhaka, Vidhyacharan Bhaskar, Siddhartha Chauhan, Amita Nandal
Important notes
Publisher's Note
Springer Nature remains neutral with regard to jurisdictional claims in published maps and institutional affiliations.
Abstract
In this research outage probability is analysed for a proposed matrix based method using selection combining diversity under shadowed attenuation in a typical macrocell environment. The conventional Lognormal shadowing model approximates the gamma probability density function which is used in proposed matrix based method. The closed form expressions are developed for evaluating the probability of outage in multipath fading environment with the help of shadow matrix, shape, and scale factors. The graphical results using proposed method are validated by comparing them with the Lognormal method. The presented results have been investigated by varying threshold in terms of shadow based attenuation. The results obtained using proposed method is compared with the Lognormal model where shadowing spread is varied. It is clear from the plots that the outage probability using proposed model shows better results the outage probability as compared to Lognormal shadowed model.