02-01-2019 | Original | Issue 7/2019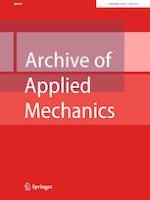 Analysis of different damage configurations at a macro-crack tip
Journal:
Authors:

Xu Li, Xiaotao Li, Shihao Cao, Xiaoyu Jiang
Important notes
Publisher's Note
Springer Nature remains neutral with regard to jurisdictional claims in published maps and institutional affiliations.
Abstract
The solution of an infinite elastic plane containing a macro-crack and a cluster of micro-cracks is presented based on Muskhelishvili's complex potential method. A step-by-step sub-problem procedure is used to satisfy the stress boundary conditions on each crack surface. A local damage parameter expressed by stress intensity factor is presented to evaluate the damage magnitude. Three damage configurations as parallel, radiating and arbitrarily oriented micro-cracks have been designed to simulate the damage around the macro-crack tip. The results show the micro-cracks located in front of the macro-crack tip have the amplifying effect on macro-crack growth, and the amplifying effect increases with the number of micro-cracks increase. Moreover, when the macro-crack length decreases or the distance between micro-cracks and macro-crack increases, the damage parameter of macro-crack and micro-cracks will decrease. It is found that the largest damage is the damage configuration of arbitrarily oriented micro-cracks among three damage configurations.