17-07-2020 | Issue 3/2020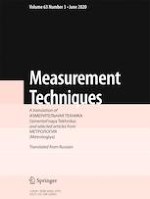 Analysis of the Multivalued Measure of Thermal Conductivity
Journal:
Authors:

Yu. P. Zarichnyak, V. P. Khodunkov
Important notes
Translated from Izmeritel'naya Tekhnika, No. 3, pp. 35–42, March, 2020.
We analyze a new class of instruments aimed at measuring heat quantities based on the use of a multivalued measure of thermal conductivity of solid bodies. On the example of measuring of the thermal conductivity of solids, we illustrate the incorrectness of application of the principle of multivaluedness for the measures of intensive heat quantities. To prove this fact, we present relations for the thermal conductivities of elements of a heat sensor realizing a multivalued measure of thermal conductivity and perform the limit transition in these relations. By using two methods, we show that the thermal conductivity of the indicated measure does not depend on the value of the supplied heat flux. It is shown that the accuracy of the method of measurements of thermal conductivity and specific heat capacity with the use of multivalued measures disagrees with the actually attainable levels of accuracy and the accuracy of reproduction of the unit of surface density of heat flux with the help of the GET 172-2016 State Primary Standard. The currently attainable accuracy of measurements of the thermal conductivity of solids is estimated.