28-10-2020 | Issue 1/2021 Open Access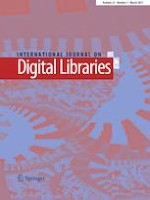 Analyzing history-related posts in twitter
Authors:

Yasunobu Sumikawa, Adam Jatowt
Important notes
Publisher's Note
Springer Nature remains neutral with regard to jurisdictional claims in published maps and institutional affiliations.
1

Introduction

History is regarded as knowledge that plays a special role in our society. This is because the comprehension of history is useful for multiple reasons. First, one can better understand the processes impacting the present world. Second, history forms the basis for the development of coherent national and local identities. Third, history offers support for decision making and provides guidance as for what can await us in the future [

1

,

23

]. Due to these and other reasons, history is one of the key subjects that are taught in elementary schools as well as in the subsequent stages of education.

Recently, social media and microblogs in particular have been often used as a convenient source for understanding public attitude towards entities or events (e.g., the US American elections [

57

]). Microblogs are also a platform useful for finding and sharing history-related content. Computational studies of references to the past in microblogs can then offer us novel perspectives for understanding the formation of collective memories and the pursuit of public history.

Collective memory analyses based on large-scale data and using computational methods have been already carried either on news article collections [

5

,

16

] or Wikipedia data [

19

,

20

,

35

,

36

]. However, when it comes to microblogs, little research has been done. One notable project is the analysis of the memories related to the First World War in Twitter [

14

] from the multi-cultural perspective. Our work also focuses on Twitter which constitutes a popular social media platform frequently utilized for a variety of studies in the computational social sciences and other domains. The analysis we perform has exploratory character aiming to offer broad investigation of practices of sharing history-related content in microblogging platforms.

The following questions are considered in our study:

1.

How do users write about history in Twitter?

2.

How does the time horizon of history-related references look like?

3.

In what way are collective memories expressed in Twitter?

4.

What are the key tweeted and re-tweeted past events and entities?

5.

How different are collective memories expressed in tweets from the ones in re-tweets?

These and other related questions are investigated based on a compiled dataset of tweet messages which were issued from March 2016 to July 2018. We collect such posts by searching for tweets which contain history-related hashtags. To increase the coverage, we apply a bootstrapping as an iterative process of collecting relevant hashtags starting from an initial set of seed history-focused hashtags. Thanks to this procedure, we collected the sufficient number of history-related hashtags, which allow us to gather over 2 million tweets which contain different kinds of references to history.

Based on the collected data, we then examine the characteristics of history-related tweets. We study their time horizons, mentioned entities, hashtag popularities as well as several other related aspects. Moreover, we describe our novel taxonomy of history-related hashtags and we analyze different hashtag categories. By this, we try to organize and provide structure to user activities related to referencing, evaluating and sharing history-related information in social networks like Twitter.

Besides answering specific research questions in this study, the results of our analysis can be useful for several practical applications. First, specialized content detection and recommendation systems can be better designed thanks to the results we report. Their objective would be to facilitate sharing of historical knowledge. Historical content recommendation in social media is an attractive and informal way for learning history. Building effective, dedicated recommendation systems could be supported based on understanding of the characteristics and types of popular history-related content in social media and the context in which this content is shared. Indeed, several existing projects already employ online social platforms like Twitter to stimulate interest in history and for teaching history.

1

An interesting idea is automatic content dissemination enabled by

history-focused chatbots

such as HistoChatbot.

2

Tweets, due to relatively short content and the simple yet effective methods for measuring their popularity (e.g., re-tweet counts and user response analysis), could constitute a useful source of data for such systems.

Naturally, some history-focused tweets are directly triggered by current events or current popular entities. Studying their formation and popularity could be useful for understanding the conditions and circumstances that would allow for "

historification

" of different types of documents. In practice, this would mean recommending relevant historical references and grounding for any present events and topics mentioned in these documents.

Besides providing answers to the research questions on history-related content dissemination in social media, our work may also offer clues about collection building for historians or other researchers who are interested in using tweet collections. The proposed categorization of history-related hashtags could be used for generating collections that contain content of special characteristics. In this context, we also discuss particular types of tools that can be used (temporal tagger, NER method) for effective analysis of collected datasets.

To sum up, we make the following contributions:

1.

We study how users refer to history in social networks based on collected large scale data.

2.

We perform tweet- and re-tweet-based analyses.

3.

We provide novel findings which offer a better understanding of how collective memories are maintained and formed in microblogging.

4.

We propose novel categorization of historical references in Twitter.

5.

We outline novel research directions and potential applications that can utilize history-related content in microblogs.

6.

We release our dataset of history-related tweets for further research.

This work is an extended version of the paper published at the JCDL 2018 conference [

55

]. We analyze here larger datasets (close to three years long span of data collection instead of 1 year as in our previous work). This allows us to undertake comparative analyses for different years (2016, 2017 and 2018). Besides the larger scale and comparative focus of this work, we also contrast the results obtained from tweets with those coming from re-tweets. This allows for pinpointing differences between active formulation of texts containing remembrances with their passive dissemination along with social networks. Finally, in comparison with the JCDL 2018 paper we analyze URLs included in tweets and show the results in this paper.

The remainder of this paper is structured as follows. We present related work in the next section. In Sect.

3

, we detail the data collection and processing. Section

4

describes the findings of our analysis, while the next section introduces our novel categorization of hashtags and provides the results of the related analyses. We then provide discussions in Sect.

6

. The last section concludes the paper and describes our future work.
2

Related work

In this section, we first start with the overview of temporal information retrieval studies and temporal text analysis (Sect.

2.1

) and with surveying works on Twitter data analysis (Sect.

2.2

) as our study uses temporal references in tweets. We then focus on broad studies of collective memory using computational approaches in Sect.

2.3

.
2.1

Temporal analysis

The current Web contains numerous digital archives including historical images, documents and so on due to intensive digitization efforts carried out over the last years. Due to the ever increasing amount of temporal data, analyzing temporal information has become an important process in information retrieval (IR) to improve satisfaction of users. Recently, several kinds of studies were undertaken in the broad area of Temporal IR (T-IR), for example, detecting temporal expressions or information [

28

], retrieving history-related images [

13

], organizing information by creating timelines [

3

,

17

,

29

], or future-related IR [

7

,

34

,

50

]. A detailed survey of T-IR is given in [

11

].

Similar to our study, several past-oriented temporal analyses have been performed. These could be roughly grouped into several sub-areas of T-IR: supporting users to perform retrieval of past specified data, extracting useful past data, and supporting or understanding historical sciences in general.

As for the supporting data search and retrieval, various methods and algorithms to assist users in finding past content were proposed [

9

,

47

,

52

]. For example, Singh

et al.

designed an IR framework to support historians in their searches [

52

]. According to the literature, if historians investigate an entity, they first try to see it from a big picture. Then, they further search for content on the entity according to some of its specific aspects. Thus, supporting historians' information seeking is useful to indicate not only important time information but also display several kinds of aspects. Bogaard

et al.

proposed a data-driven partitioning process to identify user interests and search behavior based on interactions with a historical newspaper collection spanning 400 years that is available from the National Library of the Netherlands [

9

]. They confirmed that their approach can detect user interests and observed that the related search behavior varies within the different parts of the collection. Abujabal and Berberich [

2

] proposed method to identify important past as well as future events based on frequent itemset mining and mutual information on sentences containing named entities and temporal expressions.

Works on finding analogical items over different temporal scopes are also related to our study. Zhang et al. proposed a framework for detecting counterparts of entities over time [

61

]. This framework bridges two different vector spaces that are created for different time-ranges such as [1900–1950] and [1960–2010] by applying an automatically learnt transformation matrix. The transformation matrix maps an entity in one vector space into the other one. The authors extend this approach to make use of hierarchical cluster structures [

62

]. In general, mining history-related knowledge is another popular direction of study. For example, several works try to find beneficial information from large amounts of data by evaluating the significance of historical entities [

31

], timestamping entities [

32

], analyzing trends [

29

], or trying to predict future from past events [

33

,

49

,

50

].
2.2

Twitter analysis

Twitter is one of the most popular social media platforms to share information. As a tweet can have at most 280 characters, this platform poses several challenges caused by the short content of messages. For example, there are studies extending traditional IR/NLP techniques designed for long documents such as news articles to fit short texts, e.g., identifying central topic model from tweet streams [

48

], summarizing tweets [

22

], retrieving opinions [

21

], detecting community [

8

], and building corpora [

38

,

42

,

46

]. In addition, Twitter contains not only texts but also unique features such as hashtags, followers and followees (i.e., Twitter users who follow or are followed by a particular user), and URLs. Using these features, past studies focused on (among others) automatic hashtag labeling by hashtag-based pooling tweets [

43

], analyzing factors affecting response [

15

], readability of crisis communications [

56

], language diversity [

41

], language and locations [

59

], detecting influencers in Twitter [

60

], classifying user's temporal intention when sharing resources [

51

], ranking users [

58

] or meme tracking in blogosphere [

40

].

As discussed above, many Twitter-related studies use unique Twitter's features, yet what these studies usually lack is a deep consideration of historical aspects.
2.3

Collective memory analysis
3

Data collection

This section describes the data collection and preprocessing procedures as well as general statistics of the dataset used for analysis. We also provide few basic statistics and example results of entity mention detection.

Collecting hashtags and tweets.

We used the Twitter official search API

3

provided by Twitter to collect tweets. Note that three kinds of tweets are typically found in Twitter: tweets, re-tweets and quote tweets. A tweet is an original text issued as a post by a Twitter user. A re-tweet is a copy of an original tweet for the purpose of propagating the tweet content to more users (i.e., one's followers). Finally, a quote tweet copies the content of another tweet and allows also to add new content. A quote tweet is sometimes called a re-tweet with a comment. In this work, we simply treat all quote tweets as original tweets since they include additional information/text. There were, however, only 1,877 (0.2%) tweets recognized as quote tweets in the collected data.

To collect tweets that refer to the past and are related to collective memory of past events/entities, we performed hashtag based crawling together with a bootstrapping procedure. At the beginning, we gathered several historical hashtags selected by experts (e.g.,

#HistoryTeacher

,

#history

,

#WmnHist

)

4

. In addition, we prepared several hashtags that are commonly used when referring to the past:

#onthisday

,

#thisdayinhistory

,

#throwback

thursday

,

#otd

. We then collected tweets that contain these hashtags by using Twitter's official search API. The procedure of the bootstrapping approach is shown in Procedure 1.

T

1 and

T

2 are conditions for collecting new seed hashtags and for stopping the tweet crawling, respectively.
×
These conditions depend on the data collection policy, such as
T
2 can be bound to the pre-determined tweet collection period and
T
1 may be implemented in order to perform manual checking by an expert.
\( CandNewSeedHashtag \)
serves as a difference set and is used to store newly found hashtags (while the ones already used for tweet crawling are removed) for their subsequent manual inspection.
The tweets we collected were issued from March 8, 2016, to July 2, 2018. Bootstrapping allowed us to search for other hashtags frequently used with the seed hashtags. The tweets tagged by such hashtags were then included into the seed set after the manual inspection of all the discovered hashtags as of their relation to the history, and filtering out unrelated ones. In total, we gathered 147 history-related hashtags which allowed us to collect 2,370,252 tweet IDs pointing to 882,977 tweets and 1,487,275 re-tweets
5
. Table
1
shows the key statistics of the collected data. Table
2
shows the number of tweets we collected in each year. We gathered on average approximately 77k tweets per month in 2016 and 2018 and, on average, 89k tweets per month in 2017. The complete list of the used hashtags is shown in Table
23
.
Table 1
Dataset statistics
| | |
| --- | --- |
| Number of history-related hashtags | 147 |
| Period of timestamps | 8 Mar. 2016 – 2 Jul. 2018 |
| Number of tweet IDs | 2,370,252 |
| Number of users | 910,355 |
| Number of URLs | 663,136 |
| Number of tweets with URLs | 588,847 |
| Number of re-tweets with URLs | 415,680 |
Table 2
Numbers of tweets and re-tweets and the time periods of their collection
Year

Tweets

Re-tweets

Duration

2016

271,547

489,236

Mar.

\(\sim \)

Dec. (10 months)

2017

421,905

644,061

Jan.

\(\sim \)

Dec. (12 months)

2018

189,525

353,978

Jan.

\(\sim \)

Jul. (6 months)

Total

882,977

1,487,275

2016/3

\(\sim \)

2018/7 (28 months)
Extracting time-references.
In order to conduct temporal analysis, we extracted
time-references
from tweet content. In simple approaches, two categories of temporal references are typically distinguished [
11
]:
explicit
and
implicit
temporal expressions. The former one is a concrete time point or time period, such as "1945" or "1980s," while the latter is a relative temporal expression such as "yesterday" or "two years ago." We use both types of temporal references in our study. In particular, we convert all implicit (relative) temporal expressions to the explicit (absolute) ones. To extract both types of time references, we use HeidelTime [
54
], which is an effective and popular temporal tagger with a specialized option for tweet processing. HeidelTime outputs normalized temporal expressions according to the TIMEX3 annotation standard. For example, when applied to the following tweet: "
#OTD
22 FEB of 1965, @thebeatles fly to the Bahamas to film Help!
#TheBeatles
#JohnLennon
#PaulMcCartney
https://​t.​co/​GkZhz6xowg
," the detected temporal expression is "1965-02-22." In another example, the output is "1850" for "
#ThisDay
1850 - The self-contained gas mask is patented by Benjamin J. Lane.
." In total, there were over 890,540 tweets containing temporal expressions, which represents 38% of the dataset
6
. Table
3
shows main statistics about the time references in our dataset.
Table 3
Statistics related to time references of the dataset
Tweet

Number of tweets

882,977

Number of tweets with time references

262,234

Re-tweet

Number of re-tweets

1,487,275

Number of unique re-tweet contents

454,947

Number of re-tweets with time references

628,306

Total

Number of tweet IDs

2,370,252

Number of tweet IDs with time references

890,540

Period of time references

8156 BC – 2029
×
×
Detecting entities and their types.
In this work, we employ AIDA [
27
]—an annotation tool which is linking phrases in short text with their corresponding Wikipedia articles, thus detecting and disambiguating entities. We apply AIDA, and we first count the number of times a given entity is mentioned in tweets. Figure
1
lists the top frequent 30 entities overall. In this set, we notice that there are 20 countries, regions, or cities, 2 historical events (WWI and WWII), 3 persons (Adolf Hitler, Abraham Lincoln, and Donald Trump), and 5 other kinds of entities. We then perform the same analysis for re-tweets and show its results in Fig.
2
. In the case of the re-tweets, there are 21 countries, regions, or cities, 2 historical events (WWI and WWII), 2 persons (Adolf Hitler and Abraham Lincoln), and 5 other kinds of entities. Location entity type tends to be then most frequently mentioned within the top common entities. This is because places are key constructs distinguishing different nations and countries, helping to locate the occurrence of events, indicating locations of historical buildings or areas where famous people lived, as well as they often form a kind of a "bridge" between the past and the present by often "surviving" over time.
To thoroughly investigate entities and their types, we next automatically map all the entities into DBpedia [
6
] to obtain their type assignments. We then divide all the entities into five major types (Person, Group, Place, Event, and Others) and show their rates in Fig.
3
. It can be noticed that
persons, places and groups tend to be frequently mentioned in history-focused tweets and the person category is especially common
. Note that while places were the most common entity type in the set of the top frequently mentioned entities as indicated in Figs.
1
and
2
, they are actually less common than persons when all the entities in our dataset are concerned.
Table 4
Top 10 entities of persons, groups and events in tweets
| Person | Group | Event |
| --- | --- | --- |
| Abraham Lincoln | Canadian Expeditionary Force | WW II |
| Adolf Hitler | Jews | Vietnam War |
| Donald Trump | US Congress | Omaha Beach |
| Napoleon | US Army | Battles of Saratoga |
| Sharon Corr | US Navy | Korean War |
| Barack Obama | Royal Air Force | Battle of Stalingrad |
| Alan Evans | Facebook | Battle of Gettysburg |
| George Washington | BBC | Gulf War |
| Bill Clinton | US House of Representatives | Battle of Verdun |
| Jerrard Tickell | Royal Navy | American Revol. War |
Table 5
Top 10 entities of persons, groups and events in re-tweets. The abbreviated name of entity is for Battle of Merville Gun Battery (Battle of M. G. Battery)
| Person | Group | Event |
| --- | --- | --- |
| Adolf Hitler | Jews | WW II |
| Abraham Lincoln | US Congress | Vietnam War |
| Harriet Tubman | Central Intelligence Agency | Omaha Beach |
| Leonardo da Vinci | Canadian Expeditionary Force | Korean War |
| Yuri Gagarin | BBC | Battle of Verdun |
| David Bowie | US Army | Battle of Stalingrad |
| Charles Darwin | US House of Representatives | Battle of M. G. Battery |
| Donald Trump | NASA | Gulf War |
| George Washington | Royal Air Force | Gallipoli Campaign |
| Elizabeth II | US Marine Corps | English Civil War |
×
To give some examples of entities, Tables
4
and
5
list the top 10 entities for the Person, Group and Event types for tweets and re-tweets
7
. We can observe that the names of the 5 US presidents (Abraham Lincoln, Donald Trump, Barack Obama, George Washington and Bill Clinton) appear within the top 10 persons in tweets. Three of them (Abraham Lincoln, Donald Trump and George Washington) are also ranked as top-10 in re-tweets. As for the events, wars and battles are the prevailing type. Interestingly, groups include many military units (e.g., US Army, Royal Air force),
which suggests significant focus on wars and conflicts from the past
.
We manually analyzed tweets and re-tweets that include the mentions of the US presidents by performing random sampling of 50 tweets from both groups. Although only a few tweets and re-tweets explicitly include the name of elections (e.g., "
RT @JWilsonPenn: Forget #election2016 it's the 1916 election the #EmperorsofTime want to rig. #USHistory #TimeTravel #YA #IARTG #BYNR
"), presidential elections is one of the most popular topics; many Twitter users in our dataset mentioned the topic implicitly, for example, "
#ThisDayInHistory, 2008: Barack Obama is elected the first African American president of the United States.
https://​t.​co/​83e2BAbVt7
."
We also note that the dataset contains approximately 600 tweets mentioning term "Clinton." 93% of these tweets also contain the names "Bill" or "Hillary." We show few examples below:
"

#TDiH: July 7, 2000, President Clinton declared the Cottage and 2.3 acres of land the President Lincoln & Soldiers' Home National Monument

"

"

Early 1960s. A teenage Bill Clinton meets John FDI. Kennedy

"

"

RT @GameOnPatriots: #ThrowbackThursday Reopen the Clinton email case & investigate the conduct of Strzok, Page, Comey and others who may h...

"
5

Category-based analysis
6

Discussion
6.1

Summary of main findings
Based on the rates of entity types collected from DBpedia (Fig.

3

), we conclude that persons, places and groups tend to be frequently mentioned in history-focused tweets and the person category is especially common in these types of tweets. In particular, tweets including groups focus on wars and conflicts from the past as the top entities in the group include many military units, e.g., US Army, Royal Air Force (Tables

4

and

5

).

In general, the recent past is referred to more than the distant past, and the memory decay is fastest in the recent years (Fig.

4

), which is quite expected. There are, however, several periods that are against this tendency. Users tend to focus more on years which represent two key events (WWI and WWII) in the last century and years falling exactly 50 or 100 years ago from the data collection year. Recalling events that occurred 100 years ago is also observed in Fig.

8

(e.g.,

#ww1

is one of the top hashtags for 2016) and in Tables

7

and

8

(e.g.,

#somme100

and

#100yearsago

are top hashtags there).

According to the analysis of co-occurrences of the different types of hashtags (Figs.

9

and

10

), the entities in the category of present places tend to co-occur with the entities of any other type. Both the present and past persons also tend to co-occur with entities of any other types excluding past events.

Users often enrich tweets with images (e.g., Instagram) or videos (e.g., YouTube) (as shown in Figs.

14

and

15

) as the past is often recalled by making use of diverse artifacts like images, videos, objects or historical documents. Indeed, News, Education, Arts, and Entertainment are the top 5 common URL categories (Table

22

).

We have proposed 6 categories of history-related hashtags:

General History

,

National or Regional History

,

Facet-focused History

,

General Commemoration

,

Historical Events

and

Historical Entities

(Table

23

). According to the analysis of inter-category similarity, the hashtags in the

General History

category tend to co-occur with hashtags in all the other categories (Figs.

18

and

19

). Also, the similarity score between

Historical Events

and

Historical Entities

is quite high as many famous entities in our dataset were involved in key events (e.g., Stalin, Hitler in WWII).

Temporal category analysis (Fig.

20

) demonstrated that the tweets under the

General Commemoration

category relate to many diverse years in the past. The pattern of tweeting under this category reflects thus higher diversity of the collective attention towards time periods of history. In addition, users tend to include more entity names into tweets tagged with the hashtags from this category (Table

26

).

Looking at the results of the relation between entropy of entity distributions and entropy of user distributions (Fig.

22

), we found that many different users tweet with either

General Commemoration

or

General History

hashtags and they tend to refer to many diverse entities.

These results of comparison between tweets and re-tweets reveal many shared tendencies; for example, Place and Person types of entities are popular, the recent past is referred to more than the distant past, and there are significant attention peaks on timelines representing key events (WWI and WWII). In contrast, the category-based analyses suggest several differences between tweets and re-tweets. Although the three categories:

General History

,

General Commemoration

and

Historical Events

are most commonly used, their order is different (Figs.

16

and

17

). The

General History

is the most popular in tweets, whereas the

General Commemoration

is the most common in the case of re-tweets. As another difference, in tweets,

Historical Entities

,

Historical Events

and

General Commemoration

hashtags are sometimes used together. However, in re-tweets,

General Commemoration

hashtags are not used with

Historical Entities

or

Historical Events

compared with tweets (Figs.

18

and

19

).
6.2

Limitations

Data Collection.

We note that the data collection method that we relied on naturally misses a certain portion of tweets. There are three reasons for this. First, our method cannot collect tweets which are not tagged by any history-related hashtags as it relies on hashtags for retrieving relevant tweets. Second, it is impossible to collect all tweets tagged by history-related hashtags because the official Twitter's Search API is known to not return all the tweets using a given hashtag. Third, we may have missed tweets that include history-related hashtags if they were posted before the hashtags got identified as history-related during our data collection process. This is because the Search API only provides the most recent 7-10 days of data (tweets).

We list here three other potential approaches that could be used to collect history-related data: (1)

collecting content with temporal expressions pointing to the past

, (2)

collecting content that contains past entities

, and (3)

collecting tweets by inputting history-related words or hashtags in the "Search Twitter" window of Web UI

. Every approach is, however, not without its shortcomings. The first method was used in [

5

] for extracting past references in news articles and relied on the presence of temporal expressions in text. This, however, is not always guaranteed for history-related tweets. Indeed, as can be seen in Table

3

the rate of tweets with temporal expressions is

\(40\%\)

; hence, about 4 tweets out of 10 contain tweets with any time reference. Thus, this approach would miss many relevant tweets resulting in rather low recall. Similarly, history-related tweets may not mention any past entity. Indeed, from Table

26

(see the column "Past" and the last row) we can notice that the rate of tweets containing at least one past entity, which can be recognized by the state-of-the-art tools, is only 0.12 for our dataset. Furthermore, some entities, especially more obscure ones may not be present in any knowledge base or may not be detectable using standard tools. We thus assumed in this work an approach that relies on extracting explicit history-focused hashtags and on subjecting them to the manual analysis of tagged content. While such a choice is likely characterized by a high precision, it may obviously suffer from lowered recall as discussed before. Yet, in the view of the reported statistics, we still believe it is superior to collecting tweets based on contained dates or historical entities. Future work should nevertheless explore more refined approaches for extracting implicit past-related content, ideally ones making use of the combination of all the signals (hashtags, past entities, temporal expressions, etc.). We also note that while we put great effort into the manual verification of used hashtags as for their relevance to the history, there is always a chance that some might not be fully devoted to the past, or, in general, their selection may cause certain biases.

Different Languages.

In the current study, we have mainly focused on English tweets. Further exploration should involve different languages (e.g., French, Japanese) as well as the cross-comparison of the obtained results. Our current aim is, however, not to look into particular aspects and specificities related to different countries but to rather uncover general tendencies. The focus on English was a natural decision for this initial study due to the international role and ubiquity of this language.

Extracting Original Tweets from Quote Tweets.

In this study, we treat quote tweets as original tweets. Due to relatively small number of quote tweets in our dataset (0.02%), this choice should not impact the results. Nevertheless, analyzing quote tweets may lead to discovering supplementary content added by others that may correct, extend or comment on the original tweets (e.g., content that incorporates key missing information or one that provides novel aspects of past events & entities).

Analyzing Re-tweets as Original Tweets.

Some contents in re-tweets may not appear in our original tweet dataset; thus, re-tweets may not represent the actual re-tweeted content of the original tweets that we collected. We could circumvent this by extracting content from re-tweets in order to incorporate it into our tweet dataset in case such content does not appear there. However, we decided to separate tweets and re-tweets for performing simple comparative analysis between these two. Otherwise, the results of the analysis could be regarded as potentially biased.

Fine-grained Analysis.

The present study is mainly quantitative aiming to provide first glimpse into the issue of historical references in social network services and to conduct broad exploratory analysis. Deeper qualitative exploration should be later conducted for obtaining fine-grained comprehension of the way in which users refer to the past. For example, the future analysis could examine why some entities are (or are not) popular as well as could apply sentiment analysis to identify tendencies in polarity towards particular past events or entities. Another research direction could be the detailed analysis of contexts in which the past entities or past years are mentioned. These would necessarily require some sort of manual and qualitative exploration of tweet content.

User-focused Analysis.

Our study has exploratory character and focuses on the shared content first. However, a very interesting question is about the type of users who share or are interested in historical content in social network services. Due to the time and space constraints, we have left, however, the user-focused analysis for future work.
6.3

Potential applications

Finally, we list here several example applications that could be potentially constructed based on the history-related content shared in Twitter:

1.

Recommending past-related content for readers interested in studying history. This could be, for example, popular and interesting content or the content that matches particular user interests such as tweets under hashtags of the

Facet-focused History

category that a user is interested in. Through this analysis and other forthcoming ones, we could better understand what kind of history-related content at what time periods is becoming attractive to many users.

2.

Creating history-focused chatbots such as HistoChatbot

19

for disseminating historical knowledge and for entertaining users.

3.

Finding, summarizing and explaining past entities which are mentioned in relation with the popular present entities to provide analogy and a novel, potentially interesting context for the latter.

4.

Automatically summarizing and comparing history-related opinions and popular topics across different regions.

5.

Automatically suggesting hashtags for tweets based on included entities, years and based on the predicted hashtag categories.
7

Conclusions and future work

In this paper, we have studied how users refer to the history in microblogging and in which contexts such references occur. As mentioned before, history-focused content recommendation should offer opportunities for the dissemination of interesting and trendy recollections by pushing them to users.

Our analysis is broad and is meant to lay the groundwork in establishing how microbloggers conceive of, share and refer to history-related content such as one on past events and persons. Through this exploratory study, we hope to shed more light on the way in which history-related content is used and shared in microblogging, and by this to encourage subsequent research and development of systems aiming at educating history. We perform basic study on a coarse level, providing initial observations, identifying several interesting research directions and suggesting potential applications. Our analysis is nevertheless conducted from multiple perspectives.

Future work will (a)

identify differences between general and personal histories as well as will look into what makes tweets about personal history appear interesting

. Social media provides novel opportunities to create such personal connections which can help raise an interest in the significance of historical knowledge beyond the personal experience. Future work will also include (b)

geographical analysis of tweets which may point to different cultural practices with regard to references to the past

. As currently most of the tweets in our dataset originate from the English-speaking part of the world, we should contrast these results with ones obtained on data collected in different languages. Next, we plan also to (c)

explore the interdependence between present-day events, their function as triggers for references to history and the latter's effect on the interpretation of the present

. Furthermore, as mentioned before, (d)

we plan to study in detail the characteristics of users sharing history-related content in Twitter

such as their demographics, characteristics of their followers and followees, and their interaction patterns.

Finally, (e) we will

build classifiers for determining the categories of tweet content that were introduced in this study

. As we discussed in the limitations, the current method for tweet collection relies on the proper selection of hashtags. To increase the coverage, we will define tweets that are not history-related and we are planning to train a binary classifier for detecting history-related tweets.
Acknowledgements
This work was supported in part by the MEXT Grant-in-Aids (#17H01828 and #19K20631).
Open Access
This article is licensed under a Creative Commons Attribution 4.0 International License, which permits use, sharing, adaptation, distribution and reproduction in any medium or format, as long as you give appropriate credit to the original author(s) and the source, provide a link to the Creative Commons licence, and indicate if changes were made. The images or other third party material in this article are included in the article's Creative Commons licence, unless indicated otherwise in a credit line to the material. If material is not included in the article's Creative Commons licence and your intended use is not permitted by statutory regulation or exceeds the permitted use, you will need to obtain permission directly from the copyright holder. To view a copy of this licence, visit
http://​creativecommons.​org/​licenses/​by/​4.​0/​
.
Publisher's Note
Springer Nature remains neutral with regard to jurisdictional claims in published maps and institutional affiliations.