Published in: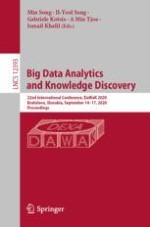 2020 | OriginalPaper | Chapter
Analyzing the Research Landscape of DaWaK Papers from 1999 to 2019
Abstract
The International Conference on Big Data Analytics and Knowledge Discovery (DaWaK) has become a key conduit to exchange experience and knowledge among researchers and practitioners in the field of data warehousing and knowledge discovery. This study has quantitatively analyzed the 775 papers published in DaWaK from 1999 to 2019. This study presents the knowledge structure of the DaWaK papers and identifies the evolution of research topics in this discipline. Several text mining techniques were applied to analyze the contents of the research fields and to structure the knowledge presented at DaWaK. Dirichlet Multinomial Regression (DMR) is used to examine the trend of the research topics. Research metrics were used to identify conference and paper performance in terms of citation counts, readers, and the number of downloads. The study shows that DaWaK research outcomes have been receiving consistent attention from the scholarly community in the past 21 years. The 775 papers were cited by 4,339 times, marking the average number of citations of each proceeding as 207 times, and the average number of citations per published paper as six times.