01-12-2009 | Original Empirical Research | Issue 4/2009 Open Access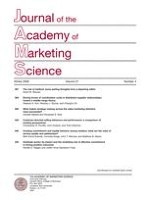 Antecedents and consequences of environmental stewardship in boundary-spanning B2B teams
Authors:

Ko de Ruyter, Ad de Jong, Martin Wetzels
Introduction
In addressing these issues, we structure our article as follows. We first provide a brief synthesis of the role theory perspective and its relevance for the context of boundary-spanning marketing teams. We subsequently develop hypotheses pertaining to the antecedents and consequences of environmental stewardship. On the basis of employee, customer, and sales data, we empirically examine the effects of the hypothesized antecedents and consequences. We conclude by discussing theoretical and managerial implications of our findings.
Theoretical framework and hypotheses
The conceptual underpinnings of our study come from role theory (for a recent overview and research agenda, see Heide and Wathne
2006
). Many authors focus on both functional (e.g., describe actors in channels, such as retailers and wholesalers) and structural (e.g., interaction patterns, networks) roles. However, as Heide and Wathne (
2006
) note, the traditional role theory perspective of actor exchange relationships as principal–agent dyads fails to do justice to the multifaceted nature of commercial relationships. Further theorizing has attempted to broaden this perspective and introduced the notion of the collective mind (Kohli and Jaworski
1990
) to take into account shared beliefs as characteristic of the roles of actors. Heide and Wathne (
2006
) also introduce an emerging specification of roles in marketing contexts, focusing on the distinction between the role of a friend and that of a businessperson, which are based on alternative logics for decision making (Montgomery
1998
).
The role of a friend relates to the so-called logic of appropriateness (March
1994
), which signifies that people's behavior in social environments results from their interpretation of the appropriate behavior in a given situation. Research in marketing (e.g., Dwyer et al.
1987
; Heide and John
1992
) shows that appropriate behavioral rules in relational exchanges develop into norms and thus the primary intrinsic motivational force. This development appears in the theory of stewardship to account for behavior that implies service to a larger community, guided by social norms (Block
1993
; Davis et al.
1997
).
Alternatively, in the more economically rational role of a businessperson, people reportedly behave according to the logic of consequences and choose rationally to maximize utility in terms of the expected consequences (Montgomery
1998
). This prototypical role appears in a variety of present-day theories used in marketing, such as transaction cost theory, agency theory, and game theory. Operationally, it corresponds to sales maximization as a means to meet targets associated with incentives, which in turn reflect the extrinsic nature of this motivation.
According to the logic of appropriateness, beliefs about behavior should be shaped by social heuristics or responsibility norms. These norms do not reflect a scripted course of action or a "green" version of the Hippocratic oath, but rather a global behavioral norm or even moral considerations that guide employees to decide how they should act in relation to other actors (e.g., customers). In our study context, responsible behavior includes stewardship considerations related to the natural environment. A high-involvement or empowerment management (e.g., delegating authority, offering support) may be conducive to the development of responsibility norms (Lawler
1992
). In contrast, a focus on performance consequences, rooted in economic rationality, can promote opportunistic behavior or calculative trust at best (Williamson
1993
). Heide and Wathne (
2006
) contend that both role orientations coexist, particularly in boundary-spanning marketing contexts. Therefore, the emergent role theory perspective seems particularly suitable to examine environmental stewardship in relation to traditional company performance parameters. Furthermore, responsibility norms, such as environmental stewardship, can function as mediators between the characteristics of the organizational context and performance (Barbuto and Wheeler
2006
; Groesbeck
2001
).
Recent theorizing on role theory also indicates that collective identities represent an important characteristic of social contexts, because heuristics reflect shared beliefs (Weber et al.
2004
). The logic of appropriateness suggests that perceptions of empowerment and support not only influence individual employee perceptions of suitable behavior but also create an idea of how other employees will behave in the same condition (March
1994
). Thus, work teams must converge toward similar perceptions of how and what they should accomplish (Cannon-Bowers et al.
1993
). This convergence requires a relatively high level of intrinsic motivation and attachment to the focus of stewardship (Becker and Billings
1993
). Recent conceptualizations of the term "stewardship" in reference to the environment point to responsibility for the sustainable handling of natural resources for current and future generations. Managerially, companies express this responsibility as the central tenet of their annual environmental reporting. For example, in its report, Dell (
2006
, p. 33) states that its "mission is to fully integrate environmental stewardship into the business." Stewardship reflects the fact that "organizational actors take personal responsibility for the effects of organizational actions on stakeholder welfare" (Hernandez
2008
, p.122). At the personal and group levels environmental responsibility should be integrated and this requires balancing interests of stake and stockholders (Hernandez
2008
). With regard to customer contact employees, environmental stewardship provides a way to reconcile a firm's strategic objectives of sustainability and customer orientation (Brío et al.
2007
). Therefore, for boundary-spanning teams, we conceptualize environmental stewardship as a collectively held sense of responsibility toward the environment, as reflected in the policies, procedures, and actions used during employee encounters with customers.
Finally, based on classic experiments conducted by Campbell (
1965
), we suggest an intricate interplay may exist between within-group coordination and between-group competition in relation to the aforementioned logics. For example, between-group competition influences the dynamics of responsibility norms (Dawes and Messick
2000
). Therefore, we develop hypotheses regarding the antecedents and consequences of environmental stewardship beliefs across individual and collective levels of analysis.
Individual-level antecedents
Drawing on the appropriateness framework, we contend that in a high-involvement context, employees in workgroups are more likely to develop a sense of responsibility toward the environment; we examine how this development may affect performance parameters. Heide and Wathne (
2006
) argue that rules of behavior gradually develop into norms, which reflects the temporal development of the logic of appropriateness. Similarly, Davis et al. (
1997
) contend that initial stewardship beliefs influence subsequent beliefs as interest alignments shift and shared expectations develop. Therefore, we propose that employees' initial beliefs (at time t–1) about their role as environmental stewards provide substantive predictors of subsequent (time t) stewardship beliefs:
Hypothesis 1:
There is a positive effect of initial environmental stewardship (t–1) on environmental stewardship (t).
March (
1994
) argues that people develop conceptions of appropriate action on the basis of the rules of the organization, which they use as environmental cues. In case of stewardship, intrinsic motivation is a key driver (Davis et al.
1997
). The authors argue that 'a steward's autonomy should be deliberately extended to maximize the benefits of a steward (Davis et al.
1997
, p. 25). Moreover, Hernandez (
2008
) argues that a sense of choice and the regulation one's own actions promotes stewardship. When they have choices, stewards can accept full responsibility and accountability for their outcomes (Block
1993
). In turn, the extent to which team members perceive that they have the autonomy to make decisions provides a substantive foundation for intrinsic motivation in work groups. Conceptualizations of autonomy primarily refer to team members' perceptions of the level of discretion they are allowed to exercise (Kirkman and Rosen
1999
). Empirical research further demonstrates that autonomy delegation provides a strong predictor of team processes (Mathieu et al.
2006
). Teams with autonomy are better equipped to self-align their collective efforts and accept responsibility and accountability for the outcomes over time (Kirkman and Rosen
1999
). Because alignment, responsibility, and accountability constitute the defining characteristics of environmental stewardship, we hypothesize:
Hypothesis 2:
There is a positive effect of autonomy (t–1) on environmental stewardship (t).
Weber et al. (
2004
) argue that leaders in organizations provide situational cues of appropriate behavior. Stewardship theorists contend that leaders should provide clear and consistent role indications (Davis et al.
1997
). Supportive leadership, therefore, should represent a necessary condition for the development of cooperative behavior. Zaccaro et al. (
1995
, p. 17) state that leadership by supervisors essentially aims to build "perceptions among individual members of their combined and collective abilities." By rewarding, coaching, and providing specific performance feedback, team supervisors may foster employee confidence about taking responsibility and accountability for their actions (Jung and Sosik
2003
). Hernandez (
2008
p. 121) conceptualizes stewardship as "an outcome of leadership behaviors". Moreover, Ramus (
2001
) demonstrates that support from immediate supervisors stimulates environmental or "eco-innovations" by employees. Hence, we posit:
Hypothesis 3:
There is a positive effect of supervisory support (t–1) on environmental stewardship (t).
Group-level antecedents
Tenbrunsel and Messick (
1999
) demonstrate that framing governance mechanisms, such as monitoring performance, influences the adoption of friend versus businessperson roles in organizations. Heide and Wathne (
2006
) mention various examples of monitoring linked to the businessperson role, such as vendor report charts, mystery shopping, and supplier audits. These monitors typically lead employees to adopt a self-serving mode, focusing on reaping economic, balanced scorecard-based rewards, which are less conducive to developing responsible considerations of the natural environment. Boundary-spanning teams frequently use two categories of performance parameters: (1) customer-based, perceptual measures (e.g., satisfaction) and (2) objective, quantifiable performance criteria (e.g., sales). Drawing on the logic of the appropriateness framework, we suggest that feedback regarding these performance measurements has a negative impact on employee perceptions of environmental stewardship. Therefore,
Hypothesis 4:
There is a negative effect of satisfaction (t–1) on environmental stewardship (t).
Hypothesis 5:
There is a negative effect of sales (t–1) on environmental stewardship (t).
Heide and Wathne (
2006
) further argue that for role theory to develop, it must incorporate units of analysis beyond the individual or dyad. Weber et al. (
2004
) also state that groups may apply the logic of appropriateness differently than do individuals. Theoretically, we know little about the determinants and mechanisms that shape motivation in workgroups. Researchers also propose that the perceptions of individual team members are meaningful for team-level analyses (e.g., Chen et al.
2002
; Mathieu et al.
2000
). As a result of the social context in which they develop, team members' individual beliefs about the sources of their workgroup's conjoint capabilities should converge and therefore may be conceptualized at the team level (Kozlowski and Klein
2000
. That is, team members likely develop shared understandings of the psycho-social characteristics of their workgroup. These shared beliefs differ conceptually from constructs that operate uniquely at the group level, such as past performance (Gully et al.
2002
). However, such aggregate-level concepts share the same content as their individual-level counterparts, and recent studies provide a typology of elemental compositions that specify functional relationships between constructs across multiple levels of analysis (e.g., Bliese
2000
).
In particular, composition models reflect the process of constructing a higher-level measure from a collection of lower-level measures; the most frequently used is the direct consensus model, which assumes that individual-level constructs can be aggregated to the group level on the basis of within-group consensus among lower-level units (e.g., individual members of a team) (Chan
1998
). Aggregate-level constructs therefore result from social interactions and common experiences within the team (Hackman
1987
). As emerging group-level properties, these variables reflect what people think of themselves (Mischel and Northcraft
1997
). By working together as a team, members gain information about one another's knowledge, skills, attitudes, and beliefs. When group members exchange viewpoints, provide feedback on ideas, and integrate their opinions into decision-making processes, they develop shared perceptions of their team's orientation toward the environment, then develop beliefs that are unique to the team. To include these contextual influences on perceptions, we propose that at the aggregate level, initial environmental stewardship, autonomy, and supervisory support have incremental, positive impacts on stewardship (i.e., beyond the individual level of analysis). Hence, we posit:
Hypothesis 6:
At the group level of analysis, there are positive effects of (a) initial environmental stewardship (t–1), (b) autonomy (t–1), and (c) supervisory support (t–1) that account for a significant amount of additional variance in environmental stewardship (t).
Moderating influence of within-team stewardship consensus
Research into the antecedents of shared perceptions provides a considerable lack of uniformity with regard to the direct effects across different work settings, which indicates the presence of moderating variables. Many studies of team processes explore situational and/or task-related variables as moderators of predictor–criterion relationships (e.g., Stewart and Barrick
2000
), but recent studies also focus on the moderating impact of interpersonal processes within teams. Stewardship pertains to the convergence of values and responsibility for the environment, so we extend our model accordingly. However, we also must consider how to conceptualize and operationalize constructs that reflect social processes as moderators of team performance relationships. Hackman (
1987
) argues that the extent of synergy in social normative processes within workgroups moderates predictor–criterion relationships. Following his assumption, several authors (e.g., Lindell and Brandt
2000
; Schneider et al.
2002
; Zohar and Luria
2005
) propose that it may be more meaningful to compose group-level team constructs according to the consensus of team member beliefs. Recent studies also propose modeling within-group dispersion as a suitable form of aggregation to reflect the extent of synergy regarding appropriate conduct (e.g., Lindell and Brandt
2000
; Schneider et al.
2002
). Typically, frontline employees who work in teams tend to be (partly) monitored and rewarded individually (Batt
1999
). Therefore, team members' beliefs should differ and reflect systematic variation. Higher levels of agreement or uniformity are particularly relevant to environmental stewardship, because they foster consistency, increase interpersonal synergy, and improve performance predictability. Consensus in team member beliefs may help team members cope with poor environmental conditions (e.g., unsupportive management) and stimulate consistency in their beliefs over time and across employees. Hence, environmental stewardship consensus should moderate the impact of the antecedents:
Hypothesis 7:
When within-team stewardship consensus (t–1) is higher, the positive effects of (a) initial environmental stewardship (t–1), (b) autonomy (t–1), and (c) supervisory support (t–1) on environmental stewardship (t) will be stronger, whereas the negative effects of (d) satisfaction (t–1) and (e) sales (t–1) on environmental stewardship (t) will be weaker.
Moderating influence of between-team stewardship consensus
Weber et al. (
2004
) argue that intergroup competition has a strong positive impact on the development of responsibility norms within a group. As Dawes and Messick (
2000
) note, such groups have a vigorous tendency to support one another in the face of competition. Organizations or business units may represent social systems that frequently compete with multiple groups (cf. Hoegl et al.
2004
; Kozlowski and Klein
2000
). Although organizations may strive to achieve coherence in their policies and procedures and set a corresponding zone of tolerance for variability in frontline operations, empowerment and the use of incentives may cause differential (i.e., nonrandom) stewardship beliefs in different teams within one context. Furthermore, teams may become polarized about certain issues as a result of conformity pressures within groups or competition in the organizational environment. Therefore, workgroups may develop diverging environmental stewardship perceptions. High between-team consensus, which reflects a coherent pattern of perceptions, should instead narrow the range of interpretation about the impact of group-level sources of within-team perceptions. Hence, we hypothesize:
Hypothesis 8:
When between-teams stewardship consensus is higher, the positive effects of (a) initial environmental stewardship (t–1), (b) autonomy (t–1), and (c) supervisory support (t–1) on environmental stewardship (t) will be stronger, whereas the negative effects of (d) satisfaction (t–1) and (e) sales (t–1) on environmental stewardship (t) will be weaker.
Consequences of environmental stewardship
Frontline teams also need to balance their processing of normative considerations with the requirements imposed by performance targets (Batt
1999
). As we argued previously, traditional performance parameters and monitoring are associated more with the businessperson role than with the role of friend. The latter role instead entails the development of specific skills and internalized values (cf. Heide and Wathne
2006
, "Saturnizing dealership employees"). In turn, we hypothesize negative relationships between environmental stewardship (logic of appropriateness) and performance measures (logic of consequences):
Hypothesis 9:
At the group level of analysis, there is a negative effect of environmental stewardship on satisfaction.
Hypothesis 10:
At the group level of analysis, there is a negative effect of environmental stewardship on sales.
In Fig.
1
, we depict our conceptual framework and provide an overview of these issues.
×
Empirical study
Discussion
Past performance validates the team's efforts as constructive and efficacious. Group-level past performance parameters have significant though divergent effects on stewardship perceptions. Whereas past customer satisfaction ratings have a positive impact on environmental stewardship, the reverse is true for past sales data. The positive impact of satisfaction may occur because the role of stewards is to act in the service of the interests of stakeholders, which is akin to the role of a friend. In contrast, sales performance involves maximizing returns and cost controls, which may conflict with maximal responsiveness to aligning the interests of the environment and the customer.
On the other hand, our findings show that the negative effect of past sales performance on environmental stewardship is weaker when between-team consensus is high. Therefore, the negative association between past sales and team stewardship should be attenuated when greater agreement in beliefs marks teams in an organizational collective. Similarity in these intergroup beliefs may provide an affirmation of the existing group's position on the environment as a dimension of service excellence. A proximal benchmark (i.e., beliefs of peers within the same team) may weaken the negative impact of past sales performance. Moreover, in contrast with our expectations, the group-level measure of supervisory support has a weaker positive effect on stewardship when between-team consensus is high. Therefore, supervisory support is most influential when uniformity between teams does not exist—a situation in which operational management leadership must make the difference.
Group-level initial stewardship appears to have a stronger positive impact on subsequent stewardship perceptions when between-team consensus is high. The team's initial level of stewardship thus appears more critical to stewardship development when the organizational unit exhibits minimal belief variability between teams. Agreement between teams provides an extra driver of progressive stewardship development over time. Finally, our results demonstrate that stewardship beliefs relate primarily to customer satisfaction rather than to sales performance. Mediation analysis reveals that it is not a mediator of sales performance. This result reflects the inherently competing facets of collective cognitions, such as priorities for customer orientation versus transactional efficiency.
Theoretical implications
Our study offers several implications for theory development. First, stewardship relates positively to customer perceptions but not to sales performance. This divergence seems typical of the two role foci that typically mark boundary-spanning marketing operations centered on sales targets rather than customer needs. Further longitudinal research should explore whether both performance parameters converge and how stewardship beliefs might accomplish both role requirements. In addition, by drawing on diverse data sources, additional work should assess the generalizability of our findings beyond our business-to-business setting (e.g., consumer services, contact center services).
Second, we contribute to emerging literature on marketing roles by taking a longitudinal perspective and investigating the lagged impact of antecedents on norms of responsibility. In this sense, we extend current multilevel research that is based primarily on cross-sectional designs. In addition to the importance of the lagged impact of initial beliefs, we show that past performance has a direct impact on later-stage perceptions. Further longitudinal research would enrich our understanding of the theory behind the cyclic nature of stewardship–performance relationships and substantively address causality in the effects.
Third, lagged predictor–stewardship relationships are not homologous across levels, a finding that empirically substantiates recent research by Boh et al. (
2007
), who demonstrate that the effect of the type of experience differs across levels of analysis. In view of the limited empirical evidence on homology across individual and team levels, we suggest that more research should identify which antecedents predict stewardship at both levels and whether this prediction depends on the type of teams or the organizational context in which teams operate. In addition, because the object of our research is boundary-spanning teams, this study focuses on cognitions of group processes rather than individual cognitions, which also is consistent with mainstream team effectiveness models. Nevertheless, employees' personal cognitions and individual values may be important variables in a team context. Therefore, further research should extend our work by taking into account the role of these individual variables.
Fourth, our study contributes to the emerging body of literature on multilevel team research by investigating within- and between-group dispersion constructs as moderators of team stewardship development. In particular, we reveal that dispersion models are relevant not only at the team level but also at the interteam level of aggregation. Within- and between-team stewardship consensus have differential moderating impacts on past performance–stewardship relationships. Specifically, whereas high within-team consensus strengthens the impact of past satisfaction, consensus between teams weakens the negative impact of past sales. The moderating impact of between-team stewardship consensus also is more pronounced—unlike within-team consensus—because it moderates the impact of initial stewardship and supervisory support. These findings imply that rather than synergetic processes among members within the team, coherence among multiple teams within the larger organizational structure or business units might explain team stewardship (Marks et al.
2005
). Research therefore cannot focus exclusively on internal team work practices but rather should take a multilevel perspective and consider interteam interfaces as a means to acquire a more complete picture of stewardship development.
Managerial implications
Our results can assist managers of team-based frontline operations develop a more in-depth understanding of the mechanisms underlying environmental stewardship–performance relationships. We translate the most important findings from our complex analysis strategy into managerial takeaways. First, the group-level impact of initial stewardship at t–1 implies that developing stewardship beliefs occurs at the group level and progressively over time. One way to promote the development of environmental stewardship within teams therefore is to identify a network of internal champions. At Hewlett-Packard for example, product stewards represent their teams in a virtual leadership council that discusses sustainability issues weekly (Preston
2001
). These stewards then foster collective dialogue within their groups and promote and recognize sustainability in daily operations. Environmental impact workshops and virtual forums could be organized to help 'green ideas and initiatives' gain momentum. Employees could be invited to share how they implement sustainability in their daily routines in on-site customer visits. Furthermore, by facilitating interaction between team members and by offering online knowledge archives teams can access for the sake of informing customers a team spirit of environmental consciousness can be fostered.
Second, companies should institutionalize specific feedback programs to facilitate information exchanges about performance. By implementing databases and groupware through which employees can share information on their eco-initiatives a virtuous performance cycle could be created. This recommendation also has implications for stimulating within-team consensus. Because its importance in terms of the impact of customer quality assessments, management should create opportunities for team members to interact, share knowledge, convincing arguments and viewpoints, jointly determine task priorities, and reduce interpersonal conflicts within the workgroup, as well as reward or recognizes employee environmental initiatives.
Third, our findings regarding the moderating impact of within- and between-team consensus, imply that within-team consensus about environmental issues represents an essential determinant of the impact of past satisfaction on subsequent stewardship. Managers should enhance consensus about environmental stewardship through training programs and develop team learning plans that outlines the development of environmental stewardship skills that identify the congruence of collective values and green business cases. Such programs could include experiential exercises that focus on selling environmentally friendly solutions to customer problems. However, consensus about stewardship beliefs involves another influential mechanism as well. To increase the likelihood of high between-team consensus, management should promote clear, coherent policies and procedures and prioritize common objectives to avoid conflicts between teams that focus on operational excellence and those focused on environmental awareness.
Finally, collective stewardship beliefs relate positively to satisfaction, but we could not confirm them as drivers of sales performance. To bridge the gap between such apparently conflicting goals, management should stimulate stewardship beliefs that include the convergence of customer orientation and transactional efficiency. By triggering beliefs about teams' capabilities to develop environmentally smarter service routines, focusing on returns to service quality and the cost of equity, and training teams to cross-sell environmentally friendly business solutions, firms might develop new forms of stewardship actions and procedures in which relative priorities coexist.
Open Access
This article is distributed under the terms of the Creative Commons Attribution Noncommercial License which permits any noncommercial use, distribution, and reproduction in any medium, provided the original author(s) and source are credited.
Open Access
This is an open access article distributed under the terms of the Creative Commons Attribution Noncommercial License (
https://​creativecommons.​org/​licenses/​by-nc/​2.​0
), which permits any noncommercial use, distribution, and reproduction in any medium, provided the original author(s) and source are credited.
Appendix
Table
5
Table 5
Measures and measurement criteria
Environmental Stewardship

[T1:

n

 = 5, CR = 0.86, AVE = 0.54;

T2:

n

 = 5, CR = 0.92, AVE = 0.71

]

1.

Our team feels a collective sense of responsibility for the environment

0.77

na

2.

Our team feels a sense of ownership for the environmental impact of our work

0.69

9.31

3.

In addressing customer problems, we attempt to come up with solutions that are

best for the environment

0.83

13.92

4.

Our team helps customers to maintain a green environment for future generations.

0.69

10.38

5. In our team, we believe that we need to play a leading role in the development of

environmentally sustainable business.

0.71

11.58

[T1

:

n

 = 4, CR = 0.81, AVE = 0.51

]

1. Our team is permitted to determine as a team how things are done

0.70

na

2. Our team is allowed a high degree of initiative.

0.71

8.31

3. In our team, we are allowed complete freedom in our work.

0.72

7.45

4. In our team, we are allowed to do our work the way we think best.

0.71

7.20

[T1

:

n

 = 4, CR = 0.87, AVE = 0.64

]

1. Our team always receives timely information from our supervisor.

0.70

na

2. Our team members feel comfortable speaking with our supervisor about business issues.

0.71

11.97

3. Our team is treated with respect by our supervisor.

0.84

13.07

4. Our team communicates with our supervisor as needed.

0.92

14.22

Customer Satisfaction (T1/T2)

[T1:

n

 = 6, CR = 0.89, AVE = 0.61;

T2

:

n

 = 6, CR = 0.90, AVE = 0.62

]

1. The extent to which employees make clear appointments

0.60

na

2. The competence of the service by employees

0.72

14.36

3. The attention employees pay to you

0.85

12.65

4. The politeness of employees

0.79

12.12

5. The extent to which the employees show empathy

0.87

14.39

6. The readiness of the employees to help you

0.86

12.60