06-12-2018 | Issue 4/2018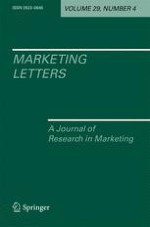 Antecedents of market orientation: marketing CEOs, CMOs, and top management team marketing experience
Journal:
Authors:

Jacob Brower, Pravin Nath
Important notes
Publisher's Note
Springer Nature remains neutral with regard to jurisdictional claims in published maps and institutional affiliations.
Abstract
While market orientation has been extensively studied, there is a dearth of research that empirically explores its antecedents, particularly those related to top management emphasis. This study integrates upper echelons theory and its behavioral integration perspective with the market orientation literature, to empirically investigate the impact of marketing representation in the top management team (TMT)—through CMO presence, and marketing experience of the CEO and the TMT—on market orientation. The results show that appointing a CEO with a marketing background is directly associated with increasing market orientation in the firm. While CMO presence is also hypothesized to make firms more market-oriented, such an effect is observed only at relatively high levels of marketing experience in the rest of the TMT. The study's results have important theoretical and practical implications for the market orientation, marketing organization, and TMT research streams.