01-07-2019 | APPLIED PROBLEMS | Issue 3/2019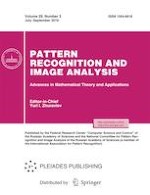 Application of Quantum-Clustering on Thermograms of WiFi Circuits in Different Operation Modes
Authors:

Nihal Yassin, M. Hesham Farouk
Important notes
Mohamed Hesham Farouk
was graduated from Electronics Engineering Dept., at Cairo University, Egypt on 1982. He had his M. Sc. And Ph.D. in Engineering physics on 1988 and 1994, respectively. Presently, he is a full professor of Engineering Physics at Cairo University. His research interests are in the areas of signal processing and machine learning. He is also adjunct professor at faculty of Information Systems and Computer Science, October 6 University.
Nihal Y. Ibrahim
graduated from Electronics Engineering Department, at Cairo University, Egypt on 2002. She obtained her PhD from Cairo University on 2015 and then was appointed as an assistant professor at Engineering Mathematical and Physics Department, Cairo University. Her research interests are: semiconductor radiation detection and spectrophotometry and has also been working with physics labs since 2002. Current research works has been published on terahertz detectors.
Abstract
The purpose of this work is to evaluate the efficacy of applying a model-based quantum clustering (QC) algorithm on thermograms of functional modes in WiFi circuits. As unsupervised clustering algorithm, it can work on clusters of any shape and does not require any prior information. QC proves its efficacy for many applications, it has been tested, in this work, and compared with other algorithms which suffer randomness according to initialization. The tests are conducted on thermograms of an electronic chip in different operation modes. The benefits of QC are confirmed through performance analysis of clustering algorithms. Robustness analysis is also conducted against white-Gaussian noise clustering and so on classification of actual WiFi circuit operation modes based on thermograms.