2021 | OriginalPaper | Chapter
Application of Remote Sensing Based Tools for Improving Agricultural Management in Paddy Fields in the Lower Mondego Region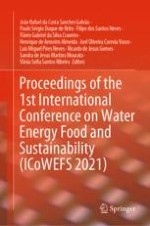 Read first chapter
Authors: Romeu G. Jorge, Isabel P. de Lima, João L. M. P. de Lima
Publisher: Springer International Publishing
Abstract
Rice, which is strategic for food security in some countries, is traditionally grown under continuous flooding, thus requiring much more irrigation water than non-ponded crops. Fresh water shortage issues and steadily increasing competition for water (human consumption, agriculture) make the accurate and up-to-date assessment of the spatial distribution of rice cultivated area and crop condition (health, water requirement) key information for stakeholders including policy makers, rice farmers and consumers.
In recent years, remote sensing data, such as images obtained from satellites and Unmanned Aerial Systems (UAS), are offering attractive routes to acquire field data in a fast and easy way. Those data are applied to extract e.g., Vegetation Indices (VI) such as the Normalized Difference Vegetation Index (NDVI) or the Green Normalized Difference Vegetation Index (GNDVI).
This work is embraced by the international project MEDWATERICE that focus on improving the sustainable use of water in Mediterranean rice agro-ecosystems. It concentrates on the Lower Mondego region (Portugal) and aims at the increased understanding of the usefulness of remote sensing tools for rice agriculture, for the local conditions. This includes investigating: 1) NDVI trend during the rice cropping season, and its spatial variability, using Sentinel-2A data; 2) Comparison between VI estimated from Sentinel-2A and UAS data. Preliminary results show that Sentinel-2A data are potential useful tools for monitoring paddy fields, but the full understanding of the relation between the signals obtained from Sentinel-2A and UAS data still requires the analysis of longer paddy fields monitoring campaigns.