01-09-2020 | Original Article | Issue 18/2020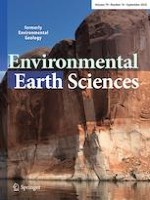 Applications of geophysical techniques to improve a groundwater conceptual model in an outcrop area of the Guarani Aquifer System, in Brazil
Journal:
Authors:

J. V. Coutinho, J. L. Porsani, V. R. Elis, V. R. N. Santos, A. T. Ustra, E. Wendland
Important notes
Electronic supplementary material
Publisher's Note
Springer Nature remains neutral with regard to jurisdictional claims in published maps and institutional affiliations.
Abstract
The comprehension of groundwater flow depends on the knowledge of hydrogeological features and water cycle, especially the recharge process. Geophysical techniques can provide useful hydrogeological information (e.g., water table and base aquifer) toward improving the water balance in groundwater models. This study, conducted in an outcrop area of the Guarani Aquifer System (GAS) in São Paulo state (Brazil), applied Ground-penetrating radar (GPR) and geoelectrical techniques for structuring a conceptual groundwater model. A GPR with 200 MHz antenna, 4 Vertical Electrical Soundings (VES) with Schlumberger array, and 12 Electrical Resistivity Tomographies (ERT) with dipole–dipole array were used. Geophysical techniques, soil samples, and water level from monitoring wells helped the definition of two different hydraulic conductivity regions and a flux boundary condition for the groundwater flow model.