Published in: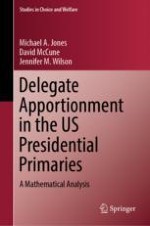 2023 | OriginalPaper | Chapter
1. Apportionment in the US Presidential Primaries
Abstract
This chapter summarizes the goals of the book, which are to describe and analyze mathematically the methods used to allocate delegates in the Democratic and Republican Party presidential primaries. We begin by defining the apportionment problem and describing how it occurs at several stages in the primary process. We introduce quota-based and divisor apportionment methods and discuss how delegate apportionment differs from apportionment applied both to congressional representation and to proportional representation in legislative systems. We conclude with a brief history of delegate allocation in the primaries and a summary of crucial features that make delegate apportionment unique.