2021 | OriginalPaper | Chapter
5. Aptamer Mediated Sensing of Environmental Pollutants Utilizing Peroxidase Mimic Activity of NanoZymes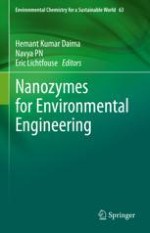 Read first chapter
Authors: Neeti Kalyani, Bandhan Chatterjee, Tarun Kumar Sharma
Publisher: Springer International Publishing
Abstract
Environmental pollution is a global health concern, affecting millions of lives. With the current pace of industrialization and unabated anthropogenic activities, the global burden of environmental pollutants is bound to rise. These pollutants take a heavy toll on human health, are also a major cause of global death and reduced life expectancy. They rapidly invade biospheres, including air, soil, and aquatic environment. From here, they find their way into the various food chain/webs and results in bioaccumulation and biomagnification, in a way affecting every member of the chain. Thus, there is an urgent need to combat this menace, and for any effective management first, there has to be an estimation of the extent and amount of contamination.
Here comes the role of various pollutant sensors, a part traditionally confined to sophisticated and expensive instrumentation and methods. However, the combination of NanoZymes (nanoparticles exhibiting enzymatic properties) and aptamers (chemical substitutes of antibody) have revolutionized the field of sensing altogether. The NanoZymes, on the one hand, are inexpensive, and robust signal generating moiety works fluidly with aptamers. The aptamers, which can be economically produced with batch consistency, have excellent recognition ability. The combination of the duo has been reported to work efficiently in the existing biosensing platforms like lateral flows and electrochemical sensors.
This chapter first concisely introduces the reader to the basic principle of the aptamer-nanozyme sensing mechanism and provides insights into the recent advancements in the field of aptamer nanozyme-based pollutant sensing. Major advances include the development of new combinations of nanomaterials, new shapes of nanomaterials to enhance the sensitivity of the biosensor. The last decade has also witnessed the development of high affine and specific aptamers for a host of environmental pollutants, which aptly supplements the development of sensors by providing novel and high-performance recognition elements for them. Additionally, due emphasis has been laid to develop mobile Point-of-Care (POC)/on-site sensors that do not need sophisticated instrumentation, trained manpower, and also comes at an affordable cost. These sensors will enable rapid, affordable on-site detection of environmental pollutants.