2009 | OriginalPaper | Chapter
Are Bernstein's Examples on Independent Events Paradoxical?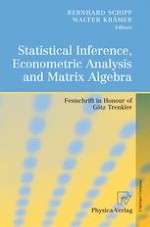 Read first chapter
Authors: Czesław Stępniak, Tomasz Owsiany
Publisher: Physica-Verlag HD
Bernstein gave two examples showing that a collection of pairwise independent random events need not to be jointly independent. These examples were numbered by Stoyanov among the most fascinating counterexamples in probability. Considering the minimal sample size for existing
n
independent and pairwise independent but jointly dependent random events we reveal the fact that the second situation is more often. In consequence it is rather a rule than a paradox.