01-12-2018 | Issue 4/2018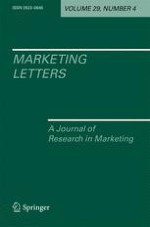 Are large portions always bad? Using the Delboeuf illusion on food packaging to nudge consumer behavior
Journal:
Authors:

Olivia Petit, Carlos Velasco, Charles Spence
Important notes
Publisher's Note
Springer Nature remains neutral with regard to jurisdictional claims in published maps and institutional affiliations.
Abstract
Exaggerated portion sizes are generally pictured on the front of product packaging in order to stimulate food craving and encourage consumer purchasing decisions. However, one problem with such images is that they can set inappropriate norms as far as food consumption is concerned and hence result in people serving themselves more than they otherwise might. The research reported here builds on the fact that depicting a food portion in a smaller (vs. larger) container (i.e., plate or bowl) creates the illusion of a larger (vs. smaller) portion, although the actual quantity of food remains the same (this is known as the Delboeuf illusion). Here, we demonstrate in two experiments that by presenting food in a smaller container (thus giving rise to the illusion of a relatively larger portion), participants have higher purchase intentions (study 1) and perceive the food as being more appetizing (study 2) but, crucially, decrease the size of the portion that they serve themselves (studies 1 and 2). Overall, by giving the impression of a larger portion on product packaging, the Delboeuf illusion could potentially be used to nudge consumers to find food more desirable, while at the same time leading them to reduce their serving, thus potentially benefitting both consumers and the food industry.