21-01-2021 | Issue 4/2021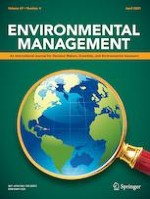 Assessing Ecological and Social Dimensions of Success in a Community-based Sustainable Harvest Program
Journal:
Authors:

Christian J. Rivera, Suzanne K. Macey, Mary E. Blair, Eleanor J. Sterling
Important notes
Supplementary information
Publisher's note
Springer Nature remains neutral with regard to jurisdictional claims in published maps and institutional affiliations.
Abstract
Community-based conservation and resource management (CBCRM) programs often incorporate the dual goals of poverty alleviation and conservation. However, robust assessments of CBCRM program outcomes are relatively scarce. This study uses a multidisciplinary, systems approach to assess the ecological and social dimensions of success of an internationally acclaimed CBCRM program. This program, located in one of the largest protected areas in the Peruvian Amazon (Pacaya-Samiria National Reserve), strives for the sustainable harvest and trade of a turtle species (Podocnemis unifilis). We used mixed methods analysis, including interviews and population viability modeling, to understand three elements: how local perceptions of changes in the managed population compare to changes inferred by ecological analyses, the indicators stakeholders use to measure success, and the barriers to long-term program success and social–ecological system sustainability. We find that stakeholders perceive a growth trend in the managed turtle population, but this perception may diverge from our ecological understanding of the system under current management. Population viability analyses with a 1:1 sex ratio suggested population size will decline under two of three management scenarios (different degrees of harvest). Yet this and similar studies are plagued by a lack of species- and site-specific population parameters that could improve understanding of the system. Significant vulnerabilities exist for system sustainability, notably the recent decrease in foreign demand for the traded resource. Identifying a sustainable species-specific harvest rate, developing locally-grounded ecological and social indicators, and focusing on data-driven adaptive management will facilitate the identification of key leverage points for future management interventions.