12-04-2021 | Issue 1/2021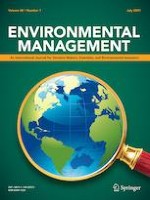 Assessing the Effectiveness of a Community-based Livestock Insurance Program
Journal:
Authors:

Justine Shanti Alexander, Bayarjargal Agvaantseren, Enkhtuvshin Gongor, Tserennadmid Nadia Mijiddorj, Tang Piaopiao, Stephen Redpath, Juliette Young, Charudutt Mishra
Important notes
Publisher's note
Springer Nature remains neutral with regard to jurisdictional claims in published maps and institutional affiliations.
Abstract
Financial mechanisms to mitigate the costs of negative human–carnivore interactions are frequently promoted to support human coexistence with carnivores. Yet, evidence to support their performance in different settings is scarce. We evaluated a community-based livestock insurance program implemented as part of a broader snow leopard conservation effort in the Tost Tosonbumba Nature Reserve, South Gobi, Mongolia. We assessed program efficiency and effectiveness for snow leopard conservation using a results-based evaluation approach. Data sources included program records from 2009 to 2018, as well as surveys conducted in 2016 and 2017, which allowed us to compare key indicators across communities that participated in the insurance program and control communities. Program coverage and number of livestock insured rapidly increased over the years to reach 65% of households and close to 11,000 livestock. Participants expressed satisfaction with the program and their contributions increased over time, with an increasing proportion (reaching 64% in 2018) originating from participant premiums, suggesting strong community ownership of the program. Participants were less likely to report the intention to kill a snow leopard and reported fewer livestock losses than respondents from control communities, suggesting increased engagement in conservation efforts. These results together suggest that the insurance program achieved its expected objectives, although it is challenging to disentangle the contributions of each individual conservation intervention implemented in intervention communities. However, in the first three years of the program, snow leopard mortalities continued to be reported suggesting that additional interventions were needed to reach impact in terms of reducing retaliatory killings of large carnivores.