29-11-2020 | Issue 1/2021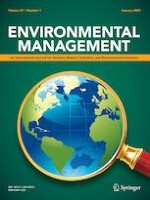 Assessing the Impacts of Urban Land Use Changes on Regional Ecosystem Services According to Urban Green Space Policies Via the Patch-Based Cellular Automata Model
Journal:
Authors:

Ilkwon Kim, Hyuksoo Kwon
Important notes
Supplementary information
Publisher's note
Springer Nature remains neutral with regard to jurisdictional claims in published maps and institutional affiliations.
Abstract
As urbanization affects the quality of regional ecosystems, which are needed to ensure the well-being of residents, urban land management plans should consider ecosystem services. While several studies have assessed urbanization impacts on regional ecosystem services in developing urban areas, they used limited approaches that only considered options pertaining to urban green space management. A modeling approach that simulates changes in urban land use and associated ecosystem services can better support urban land management decisions by comparing the effects of different scenarios. We simulated urban land use change impacts on regional ecosystem services using a patch-based cellular automata model and assessment tools for seven ecosystem service indicators in different urban management scenarios regarding green space policies in Ansan, South Korea. The simulation results showed spatial patterns of land use changes and impacts on associated ecosystem services although their impacts varied according to different service types. While urbanization affected regional ecosystem services to a lesser extent than land use changes, urban green space policies contributed to increasing ecosystem services. Our approach provides useful information for improved policy decisions with regard to coupling urban management with ecosystem services, as urban green spaces are necessary for residents' well-being.