01-04-2014 | UNCERTAINTIES IN LCA | Issue 4/2014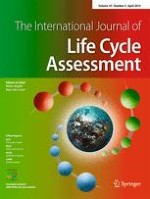 Assessment and improvement of the appropriateness of an LCI data set on a system level – application to textile manufacturing
Authors:

Marie de Saxcé, Besoa Rabenasolo, Anne Perwuelz
Important notes
Responsible editor: Guido W. Sonnemann
Electronic supplementary material
The online version of this article (doi:
10.​1007/​s11367-013-0679-9
) contains supplementary material, which is available to authorized users.
Abstract
Purpose
This paper aims at assessing the appropriateness at the system level of different Life Cycle Inventory (LCI) data sets (including default models) selected by the Life Cycle Assessment (LCA) practitioner. This means that the uncertainty measurements are applied on some specific main parameters of the LCI data set instead of measured input values. This approach aims at providing a pragmatic method to approximate and reduce the uncertainties resulting from a lack of information on a specific step.
Methods
The method proposed in this paper to assess the percentage errors on appropriateness includes three main steps. First, different systems including different versions of the same process with technological or geographical changes are assessed. Second, a hierarchical cluster analysis (HCA) or a principal component analysis (PCA) is performed to identify the main variables influencing the results. Third, a multivariate analysis of variances (MANOVA) assesses the significance of the main variables on the results. An appropriate default model can be developed by setting the variables introducing high variations in results.
Results and discussion
When comparing the same spinning process located in different countries, the HCA enabled us to identify the electricity mix as the main variable influencing the results. The "world average default models" has proven inappropriate to represent country specific locations. When comparing spinning technologies, the PCAs identified the electricity and the cotton input required as the main variables influencing the results and explained the variations in results due to technological changes.
The HCA performed on different yarn manufacturing procedures identified the location and the yarn thickness as the two main variables influencing the results. The MANOVA assessed the percentage marginal variance (PMV) explained by the variable
location
between 85 and 92 % for four impact categories. The MANOVA performed on different fabric manufacturing systems assessed the PMV explained by the variables
harvest
,
spinning
, and
weaving locations
above 68 % for all impact categories. The HCA and MANOVA analyses helped design an appropriate "technological average default model."
Conclusions
From the identification of the main influencing variables (HCA and PCA) to the quantitative appropriateness assessment (MANOVA) and the development of appropriate default models, the method has proven effective in assisting the LCA practitioner in the modeling of textile manufacturing systems, and for other worldwide multi-step manufacturing systems.