01-09-2020 | Original Article | Issue 18/2020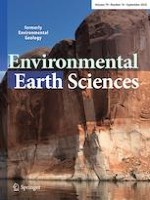 Assessment of nitrate and heavy metal contamination of groundwater using the heavy metal pollution index: case study of Linares, Mexico
Journal:
Authors:

Héctor de León-Gómez, Miguel A. Martin del Campo-Delgado, María V. Esteller-Alberich, Fernando Velasco-Tapia, Efraín Alva-Niño, Arquímedes Cruz-López
Important notes
Publisher's Note
Springer Nature remains neutral with regard to jurisdictional claims in published maps and institutional affiliations.
Abstract
Groundwater contamination is a significant problem in Mexico and around the world. It can be influenced by both natural and anthropogenic factors. In Linares, Mexico, we identified several wells used to cover the water demand for different human activities with nearby potential sources of contamination, including urban, agricultural, and livestock activities, electrical and electronic waste disposal, and fuel storage tanks. We then explored groundwater contamination herein as a result of anthropogenic activities as well as the hydrodynamics of the porous and fractured aquifers in the region based on physiochemical analyses of water samples and the heavy metal pollution index (HPI). The fractured aquifer is composed of shales with a thickness of 70–400 m, while the porous aquifer is composed mainly of gravels, sands, silt, and moderately cemented clays with a thickness of 5 m. The groundwater level is on average 20 m deep, and the flow direction is west to east. The identified water facies are mainly Ca–HCO3 type, originating from the dissolution of diverse carbonated materials in the area. It was also possible to identify the mixing of groundwater and water influenced by various agricultural and livestock activities, including the use of pesticides and fertilizers and the direct deposition of cattle excreta. The average nitrate concentration of the sampled wells was 80 mg/L, higher than the permissible limit set by the WHO and Mexican standards. The calculated HPI value was 470, well above the critical value of 100, mostly due to the presence of Cd, which is likely associated with the storage of electrical and electronic waste and fuel tanks in the area. These results show that the water wells sampled in Linares, Mexico, without further treatment, are unsuitable for human use. It is important to continue to monitor the contamination of groundwater by heavy metals in different areas of Mexico and to identify potential sources of contamination to create mitigation strategies and ensure the safety and sustainability of water resources in the future.