01-06-2015 | Research Article | Issue 2/2015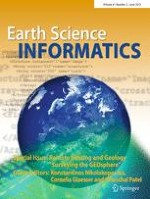 Assessment of relationship between snow cover characteristics (SGI and SCI) and snow cover indices (NDSI and S3)
Journal:
Authors:

Retinder Kour, Nilanchal Patel, Akhouri Pramod Krishna
Important notes
Communicated by: K. Nikolakopoulus
Published in the Special Issue of
Remote Sensing and Geology "Surveying the GEOsphere"
; with Guest Editors Dr. Konstantinos Nikolakopoulus, Dr. Cornelia Glaesser and Dr. Nilanchal Patel.
Abstract
Snow cover characteristics play a vital role in hydrological and climatological analyses. Snow characteristics have been retrieved using different techniques but no study has been conducted hitherto to determine its relationship with snow cover indices. In the present study the relationship of snow cover characteristics i.e., snow grain size index (SGI) and snow contamination index (SCI) with the snow cover indices viz. normalized difference snow index (NDSI) and S3 index is investigated using LANDSAT 8 OLI data in parts of Chenab Basin, western Himalayas. This task has been accomplished through comparative assessment of the relationship of snow cover characteristics with NDSI and S3: first, over two distinct illumination conditions i.e., sunlit snow cover and snow cover under shadow and second, for two different time periods i.e., November 2013 and February 2014 respectively. The results reveal the following observations. First, in the sunlit snow cover, there occurs positive correlation of both NDSI and S3 with SGI whereas they are negatively correlated with SCI, but in the snow cover under shadow, both NDSI and S3 exhibit negative correlation with SGI and SCI each. Second, S3 shows higher correlation with SGI and SCI than NDSI in the respective illumination conditions and time periods. Third, SGI and SCI portray highly positive correlation between them in the shadow side and a smaller negative correlation in the sunlit side. The results provide improved understanding regarding the relationship of the snow cover characteristics with the snow cover indices.