07-08-2020 | Issue 11/2020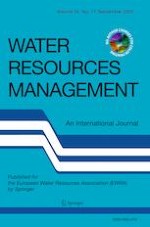 Asymmetric Benefit Compensation Model for Resolving Transboundary Water Management Conflicts
Journal:
Authors:

Jianan Qin, Xiang Fu, Shaoming Peng
Important notes
Electronic supplementary material
Publisher's Note
Springer Nature remains neutral with regard to jurisdictional claims in published maps and institutional affiliations.
Abstract
This paper proposes an asymmetric benefit compensation model for stimulating rational agents, who often have disparate geography, hydrology, climate, and socio-economies, to participate in cooperative transboundary water management. A social planner model is initially developed to maximize the total water benefit of a river system under the assumption of perfect cooperation among the agents. Subsequently, a Stackelberg game-theoretical model is used to derive the agents' disagreement utility based on considering their spatial heterogeneity in water accessibility. Based on the agents' bargaining weights produced by several multi-attribute decision analysis methods, the aggregate water benefit is then redistributed among the agents by adopting the asymmetric Nash bargaining solution. The possible benefit compensation solutions are finally compared by using a composite index that can synthetically consider optimality, equity and stability criteria. The Qujiang River Basin in China is used to demonstrate the applicability of the suggested model. The results show that this integrated model can offer useful insights for conflict resolution in river sharing problems.