26-11-2016 | Focus | Issue 16/2017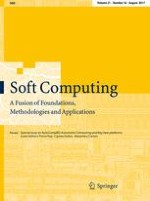 ATAC4Cloud: a framework for modeling and simulating autonomic cloud
Journal:
Authors:

Walid Chainbi, Hanen Chihi, Meriem Azaiez
Important notes
Communicated by F. Pop, C. Dobre and A. Costan.
Abstract
Optimizing resources usage costs represents a key issue in order to efficiently manage Cloud infrastructure. By using such infrastructure, the ability to infer the needed number and type of resources determines the final budget. A lot of work and budget is required to set up a testbed of adequate size, including different resources from different Cloud providers, in order to develop new proposals aimed at Cloud resources adaptation. Several Cloud computing simulators including MDCSim, GreenCloud, iCanCloud and CloudSim have been proposed, but their main problems are that they don't take into account Cloud self-adaptation needs. For these reasons, we propose in this paper ATAC4Cloud, a Cloud simulator supporting autonomic behaviors and integrating a workload generator that builds benchmarks to test the Cloud infrastructure. The underpinning of this work is the synergy existing between agent technology and autonomic computing to develop self-adaptive Cloud systems. ATAC4Cloud is developed as an extension of CloudSim.