13-02-2020 | Issue 3/2020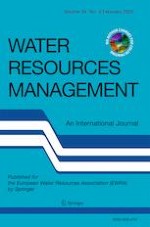 Attaining Sustainable Water Resource Utilization in Lake Basins Using Progressive Operational Scenario Analysis
Journal:
Authors:

Jiayu Peng, Binghui Zheng, Zhaosheng Chu, Xing Wang
Important notes
Publisher's Note
Springer Nature remains neutral with regard to jurisdictional claims in published maps and institutional affiliations.
Abstract
There is a severe conflict between water resource exploitation and protection of the aquatic environment of lakes with rapid urbanization. Sustainable water resource utilization is urgent for sustainable development. The present study introduced a progressive operational scenario analysis (POSA) method for water resource regulation in lake basins. The application processes of POSA in Dianchi Lake, Erhai Lake and Fuxian Lake were described in detail. The effectiveness of the POSA method and scenario analysis method in achieving sustainable water resource utilization were compared and analysed, and the improvement in the efficiency of water resource utilization in lake basins due to the two methods was discussed. The results showed that implementation of POSA can effectively achieve sustainable water resource utilization in Dianchi Lake, Erhai Lake and Fuxian Lake and reduce the aquatic environmental pressure. Compared with business-as-usual, this method reduced the water use efficiency indicators of Dianchi Lake, Erhai Lake and Fuxian Lake by 2%–8%, 1%–25% and 8%–35%, respectively, and the water environmental pressure in Dianchi Lake, Erhai Lake and Fuxian Lake decreased by 28.51%, 29.70% and 69.39%, respectively. POSA has been proven to be an excellent tool for managing the aquatic environments and regulating water resources in lake basins.