01-12-2018 | Original Paper | Issue 3/2020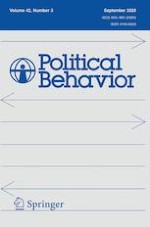 Attribute Affinity: U.S. Natives' Attitudes Toward Immigrants
Journal:
Authors:

Adam J. Berinsky, Tesalia Rizzo, Leah R. Rosenzweig, Elisha Heaps
Important notes
Electronic supplementary material
Elisha Heaps contributed to the conception and early data collection for this paper. The remaining authors contributed equally to the paper.
For comments, the authors are grateful to Daniel de Kadt, Nicolas Dumas, James Dunham, Daniel Hopkins, Jonathan Phillips, Kyle Shohfi, Michael Tessler, Cara Wong, three anonymous reviewers, as well as participants at MPSA 2014, Harvard's Working Group in Political Psychology 2014, MIT's Political Experiments Research Lab 2014, and George Washington University. Leah Rosenzweig gratefully acknowledges support through the ANR Labex IAST.
Abstract
We examine the extent to which relevant social identity traits shared between two individuals—what we term "attribute affinity"—can moderate out-group hostility. We argue that in-group affinity is a powerful force in shaping preferences over potential immigrants. We focus on two closely related, yet distinct, dimensions of identity: religion and religiosity. Using evidence from three surveys that included two embedded experiments, we show that sharing strength in religious practice can diminish strong aversion to immigrants of different religious affiliations. We find that, among highly religious U.S. natives, anti-Muslim bias is lower toward very religious Muslims, compared to non-religious Muslims. This attenuating effect of attribute affinity with respect to religiosity on anti-Muslim bias presents the strongest evidence supporting our argument.