19-05-2021 | Original Article | Issue 6/2021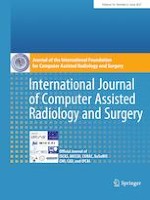 Automated atlas-based segmentation for skull base surgical planning
Authors:

Neeraja Konuthula, Francisco A. Perez, A. Murat Maga, Waleed M. Abuzeid, Kris Moe, Blake Hannaford, Randall A. Bly
Important notes
Supplementary Information
Publisher's Note
Springer Nature remains neutral with regard to jurisdictional claims in published maps and institutional affiliations.
Abstract
Purpose
Computational surgical planning tools could help develop novel skull base surgical approaches that improve safety and patient outcomes. This defines a need for automated skull base segmentation to improve the usability of surgical planning software. The objective of this work was to design and validate an algorithm for atlas-based automated segmentation of skull base structures in individual image sets for skull base surgical planning.
Methods
Advanced Normalization Tools software was used to construct a synthetic CT template from 6 subjects, and skull base structures were manually segmented to create a reference atlas. Landmark registration followed by Elastix deformable registration was applied to the template to register it to each of the 30 trusted reference image sets. Dice coefficient, average Hausdorff distance, and clinical usability scoring were used to compare the atlas segmentations to those of the trusted reference image sets.
Results
The mean for average Hausdorff distance for all structures was less than 2 mm (mean for 95th percentile Hausdorff distance was less than 5 mm). For structures greater than 2.5 mL in volume, the average Dice coefficient was 0.73 (range 0.59–0.82), and for structures less than 2.5 mL in volume the Dice coefficient was less than 0.7. The usability scoring survey was completed by three experts, and all structures met the criteria for acceptable effort except for the foramen spinosum, rotundum, and carotid artery, which required more than minor corrections.
Conclusion
Currently available open-source algorithms, such as the Elastix deformable algorithm, can be used for automated atlas-based segmentation of skull base structures with acceptable clinical accuracy and minimal corrections with the use of the proposed atlas. The first publicly available CT template and anterior skull base segmentation atlas being released (available at this link:
http://​hdl.​handle.​net/​1773/​46259
) with this paper will allow for general use of automated atlas-based segmentation of the skull base.