2021 | OriginalPaper | Chapter
AVL High Performance 48 V Integrated Electric Axle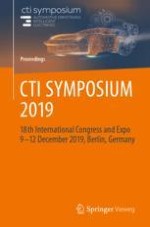 Read first chapter
Authors: Inigo Garcia de Madinabeitia Merino, Christian Schmidt, Julian Pohn, Mohamed Essam Ahmed, Klaus Kronfeldner
Publisher: Springer Berlin Heidelberg
Abstract
Compared to conventional 48 V drive systems, the AVL P4 e-axle layout enables the customer to use the vehicle in pure electric drive modes, with much higher performance compared to currently available systems on the market.
A set of use cases is defined to calculate the torque and power requirements for the e-axle. Based on this, the required torque-speed characteristic of the e-axle can be determined. To be competitive on the market, the target package space is defined by the available package of a conventional 4WD rear axle to minimize vehicle modifications. Mechanical interfaces such as e-axle bearing support and half shafts to the wheels of the 4WD system shall be reusable. Additionally, a co-axial design is used to minimize the package space.
The definition of the e-motor torque and the transmission ratio is a compromise between available package for the e-machine, maximum rotational speed of the e-machine, 10500 rpm, and the fixed value of required e-axle torque, 1280 Nm. The overall gear ratio of 9,45 is divided in two steps, equipped with a disconnect element placed on the intermediate shaft. This e-axle shall be able to support the powertrain up to 130 kph as well as to be disconnected from the wheels above 130 kph to improve the overall efficiency.
For achieving best-in-class power density with low torque ripple, the e-machine is designed with 6 phases and distributed winding. The 6-phase technology shifts the 48 V system to the next higher level of electrification and allows pure electric drive capability. The inverter consists of 2 modules, each controlling 3 phases of the e-machine and is fully integrated into the e-axle, having all connections routed internally. The cooling system of inverter and e-machine is connected in series.
Within this paper the 48 V e-axle system will be outlined, and the technical solution and its features will be explained.