Published in: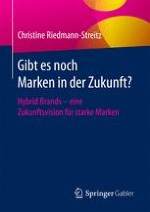 2017 | OriginalPaper | Chapter
1. Back to the roots: Marken sind keine Erfindung der Neuzeit
Zusammenfassung
Wir sind mit Marken aufgewachsen, unabhängig davon, zu welcher Generation wir gehören. Sie waren bereits da, noch bevor wir anfingen, ihre Mechanismen zu ergründen. Ihre Rolle, Bedeutung und Anwendung haben sich über die Zeiten verändert, ihre Kernfunktion ist geblieben. So wurden sie integraler Bestandteil unseres Alltags und globalen Wirtschaftens und bedeutender Wertschöpfungsfaktor für Anbieter und Kunde. Das gilt jedoch nur für starke Marken, die das Nadelöhr der Ökonomie der Aufmerksamkeit passieren. Worum es dabei geht, erläutern wir in diesem Kapitel. Auch scheint es, als würde die Relevanz der Marke zunehmen und sie im digitalen Zeitalter unverzichtbar werden. Ebenso denkbar ist, dass ihre Einflusskraft durch digitale Faktoren unwiederbringlich gefährdet ist. Wir betrachten u. a. "Grundlegendes zur Marke" und setzen Akzente mit den (noch) stark vernachlässigten Segmenten "Arbeitgeber-Marke" und "Personen-Marke". Wir beleuchten die Brand Key Facts aus ökonomischer und psychologischer Sicht und prüfen, ob die Marke "Gutes" bewirken und dabei wirtschaftlichen Erfolg generieren kann. Und wir erklären, warum wir unsere Denkrichtung ändern müssen – selbst wenn wir sagen: der Kunde ist König.