Published in: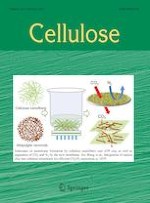 24-01-2022 | Original Research
Bacterial nanocellulose containing diethylditiocarbamate bio-curatives: physicochemical characterization and drug delivery evaluation
Published in: Cellulose | Issue 3/2022
Login to get access
Abstract
Bacterial nanocellulose (BNC) is a natural biopolymer produced by different strains of acetic acid bacteria. Biocompatibility, lack of immunogenicity, mechanical strength and crystallinity make BNC a highly applicable product for drug delivery and wound dressing. Previously, we demonstrated that diethylditiocarbamate (DETC), a Superoxide Dismutase 1 inhibitor, incorporated into BNC bio-curatives was effective for treating Cutaneous leishmaniasis (CL) lesions, a parasitic disease caused by
Leishmania
. We herein investigated the interactions between DETC and BNC. For this purpose, DETC was incorporated into BNC and thermal analysis, x-ray diffraction and Scanning electron microscopy were performed. Furthermore, in vitro DETC release and stability tests as well as degradation studies were also performed. Our results show that DETC is well incorporated into BNC, however it is short lived as suggested by degradation experiments. Future use of BNC DETC-based bio-curatives for the treatment of CL shall require further development in order to increase stability of DETC in the bio-curative.