Published in: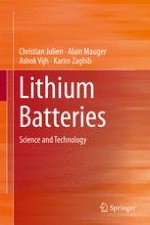 2016 | OriginalPaper | Chapter
1. Basic Elements for Energy Storage and Conversion
Abstract
Major challenges of the twenty-first century will concern the global climate change and dwindling fossil energy reserves that motivate to develop sustainable solutions based on renewable sources of energy. Because they are intermittent systems, accumulators of electric power are required. This chapter provides basic concept for the energy storage and conversion systems. Basic elements of technologies are also given, which make an introduction of the topics.