01-10-2018 | Automotive Acoustics | Special Issue 2/2018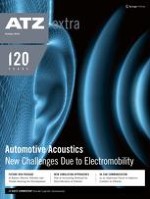 Battery Electric Vehicles What is the Future of the NVH Package?
Journal:
Authors:

Dr. Davide Caprioli, Leonardo Ferrali, Marco Cardillo
In this article, Autoneum compares the current NVH performance in the interior passenger compartment of BEVs with their ICE counterparts and reviews the main global trends that are currently steering electric vehicle development to derive a forecast about the future trends for the NVH package of BEVs. ...