07-04-2021 | Issue 1/2021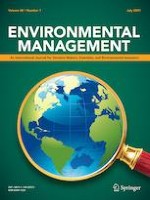 Battling Water Limits to Growth: Lessons from Water Trends in the Central Plateau of Iran
Journal:
Authors:

Alireza Sharifi, Ali Mirchi, Roghayeh Pirmoradian, Rasoul Mirabbasi, Mohammad Javad Tourian, Ali Torabi Haghighi, Kaveh Madani
Important notes
Publisher's note
Springer Nature remains neutral with regard to jurisdictional claims in published maps and institutional affiliations.
Abstract
The Zayandeh-Rud River Basin in the central plateau of Iran continues to grapple with water shortages due to a water-intensive development path made possible by a primarily supply-oriented water management approach to battle the water limits to growth. Despite inter-basin water transfers and increasing groundwater supply, recurring water shortages and associated tensions among stakeholders underscore key weaknesses in the current water management paradigm. There was an alarming trend of groundwater depletion in the basin's four main aquifers in the 1993–2016 period as indicated by the results of the Mann-Kendall3 (MK3) test and Innovative Trend Analysis (ITA) of groundwater volume. The basin's water resources declined by more than 6 BCM in 2016 compared to 2005 based on the equivalent water height (EWH) derived from monthly data (2002–2016) from the GRACE. The extensive groundwater depletion is an unequivocal evidence of reduced water availability in the face of growing basin-wide demand, necessitating water saving in all water use sectors. Implementing an integrated water resources management plan that accounts for evolving water supply priorities, growing demand and scarcity, and institutional changes is an urgent step to alleviate the growing tensions and preempt future water insecurity problems that are bound to occur if demand management approaches are delayed.