01-03-2019 | Original Paper | Issue 1/2019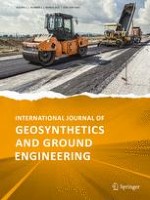 Bearing Capacity of Square Footing Resting on Fibre-Reinforced Pond Ash Overlying Soft Clay
Authors:

Sudhir Arora, Arvind Kumar
Important notes
Publisher's Note
Springer Nature remains neutral with regard to jurisdictional claims in published maps and institutional affiliations.
Abstract
This paper presents the results of an experimental and numerical investigation carried out on a two layered soil system which contains unreinforced/randomly distributed fibre-reinforced pond ash (
RDFP
) layer overlying a soft clay layer. Model tests have been performed on square footing resting on unreinforced/
RDFP
layer overlying soft clay. The effect of pond ash layer (unreinforced/reinforced) has been studied by varying its thickness as 0.5
B
, 1.0
B
and 1.5
B
where
B
is the width of the footing. The effect of polypropylene fibres of lengths 6 mm, 12 mm and 18 mm have also been studied with varying in their percentage as 0.5%, 0.75% and 1%. Results have shown that there is significant amount of improvement in ultimate bearing capacity as well as in the settlement of the soil system due to the provision of pond ash layer over soft clay. Finite element analysis of the model footing has also been done with PLAXIS 3D software. The experimental results have been validated by the results obtained numerically.