2021 | OriginalPaper | Chapter
4. Becoming the World's Economic Statistician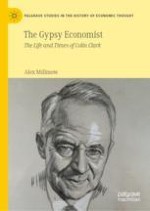 Read first chapter
Author: Alex Millmow
Publisher: Springer Singapore
Abstract
This chapter considers Colin Clark's role as one of the leading creators of national income accounting. His first book,
The National Income, 1924
–
1931
, mapped the gyrations of the business cycle with quarterly estimates of national income. Making a distinction between national product and national income, it included the generation of total money income, its distribution among the classes and the contributions made by the productive factors. It also highlighted the increasing role of services in a modern economy. His next book
National Income and Outlay
(1937) measured aggregate economic activity for Britain over the three dimensions of income, expenditure, and production from the years 1929–1936. It presented aggregates such as output, consumers' expenditure, investment expenditure, government revenue and expenditure and macroeconomic relationships. Intrigued by the interwar revival of Malthusianism Clark uncovered striking increases in agricultural productivity in developed and developing countries alike that queried the validity of that doctrine; it portended an interest about the true extent of world hunger as well as his intrinsic interest in demography and agricultural systems. Like Keynes, Clark held that population growth made for a vibrant and competitive society.