28-11-2019 | Issue 4/2020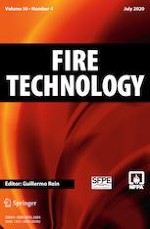 Behaviour of Fire-Exposed Reinforced Concrete Joints with Varying Anchorage Details Subjected to Exterior Column Removal
Journal:
Authors:

Zhi Li, Yan Tan, Jingsi Huo, Yanzhi Liu, Ahmed Y. Elghazouli
Important notes
Publisher's Note
Springer Nature remains neutral with regard to jurisdictional claims in published maps and institutional affiliations.
Abstract
This paper presents an experimental assessment into the behaviour of fire-exposed reinforced concrete (RC) beam–column joints with different reinforcement anchorage details subjected to exterior column removal. The thermal response of the RC joint specimens is firstly described, including the development of the temperature fields and the horizontal restraint forces throughout the fire tests as well as the cooling-induced cracking patterns. Subsequently, within the following displacement-controlled push-down tests, the vertical load and horizontal reactions are also monitored. The mechanical behaviour of the test specimens is discussed in detail and a full account of the observed failure modes is provided. Particular attention is given to comparing the experimental axial-moment strength interaction curves with theoretical predictions in order to examine the underlying behavioural mechanisms, with emphasis on the influence of the fire conditions as well as varying anchorages details. Overall, this study provides not only reliable data for the validation and calibration of future numerical and analytical studies, but also forms the basis for practical design of fire-exposed RC frame structures against progressive collapse.