2015 | OriginalPaper | Chapter
Benefits of Adopting a Spacecraft Decommissioning Device to Implement Orbital Access Sustainability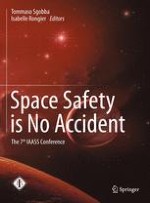 Read first chapter
Authors: Giuseppe Tussiwand, Stefano Antonetti, Luca Rossettini, Francesco Di Tolle
Publisher: Springer International Publishing
Abstract
For decades, space faring nations and private organizations have underestimated the fact that orbital space is a limited resource. A sustainable development of space activities will only be possible if space users will implement technologies and practices suitable to avoid the accumulation of objects in orbit. Until then, objects will accumulate as long as the rate of launches is higher than the rate at which objects are removed by natural forces. Currently, the increasing population of defunct satellites and other man-made debris in orbital space is getting in the focus of legislators, agencies and industry.
A dedicated decommissioning device with solid propellant propulsion system to be installed on satellites before launch would allow a safe and quick decommissioning of a spacecraft before it impacts with other objects and is fragmented in small debris.
D-Orbit proposes a system based on solid propellant technology with the following features:
works even if the satellite is malfunctioning;

compliant with ESA and NASA standards;

single point of failure free (except for the motor),

reliable for the entire life of the satellite;

scalable and therefore adaptable to different missions
This paper shows the benefits that a dedicated decommissioning device would bring to the sustainability of space activities. Its adoption will allow a permanent, sustainable utilization model for orbital space, thereby enhancing a safe access to space for the future.
The authors show the requirements applicable to the design and use of such a device focusing on safety and suggesting the technical measures for their implementation.