18-02-2021 | Regular Paper | Issue 3/2021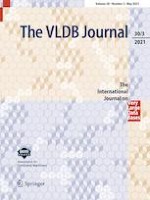 Better database cost/performance via batched I/O on programmable SSD
Journal:
Authors:

Jaeyoung Do, Ivan Luiz Picoli, David Lomet, Philippe Bonnet
Important notes
Publisher's Note
Springer Nature remains neutral with regard to jurisdictional claims in published maps and institutional affiliations.
Abstract
Data should be placed at the most cost- and performance-effective tier in the storage hierarchy. While performance and cost decrease with distance from the CPU, the cost/performance trade-off depends on how efficiently data can be moved across tiers. Log structuring improves this cost/performance by writing batches of pages from main memory to secondary storage using a conventional block-at-a-time I/O interface. However, log structuring incurs overhead in the form of recovery and garbage collection. With computational Solid-State Drives, it is now possible to design a storage interface that minimizes this overhead. In this paper, we offload log structuring from the CPU to the SSD. We define a new batch I/O storage interface and we design a Flash Translation Layer that takes care of log structuring on the SSD side. This removes the CPU computational and I/O load associated with recovery and garbage collection. We compare the performance of the Bw-tree key-value store with its LLAMA host-based log structuring to the same key-value software stack executing on a computational SSD equipped with a batch I/O interface. Our experimental results show the benefits of eliminating redundancies, minimizing interactions across storage layers, and avoiding the CPU cost of providing log structuring.