01-09-2014 | Issue 3/2014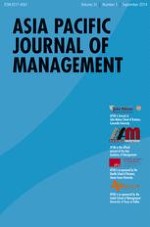 Bicultural identity and economic engagement: An exploratory study of the Indian diaspora in North America
Journal:
Authors:

Masud Chand, Rosalie L. Tung
Important notes
A previous version of this paper was presented at the AIB 2010 conference in Rio de Janeiro, Brazil.
Abstract
This study examines the role that the bicultural identity of members of an ethnic diaspora (the Indian diaspora in Canada and the United States) can play in affecting the level of economic engagement between their country of residence (COR) and country of origin (COO). Specifically, it examines how differences in bicultural identity can explain the varying levels of engagement by diasporic members in different trade and investment facilitation behaviors, and how the different components of bicultural identity, cultural distance, and cultural conflict, could affect the level of economic engagement between the diasporic members' COR and COO. Results indicate that cultural distance and cultural conflict and their interaction do have a significant impact on economic engagement behaviors; these effects are complex and multifaceted and are mediated by the diaspora's social networks in both the COR and COO.